What is Cybersecurity Management?

Cybersecurity management refers to the strategic approach that governs the implementation and maintenance of cybersecurity measures, which are intended to protect information and digital assess from cyber threats and unauthorized access
It involves the development of policies, risk management strategies, and the continuous monitoring of an organization's cybersecurity infrastructure to ensure that the defensive measures in place are effective. It is about the overarching strategy and administration of these mechanisms to align with organizational goals and compliance requirements.
Cybersecurity is a constantly evolving field responding rapidly to technological advancements and the ever-increasing threats. As organizations become more digital and interconnected, there is an urgent need for effective cybersecurity management, especially considering the frequent occurrences of cyber threats.
According to Statista, in 2022, there were 493.33 million ransomware attacks detected by organizations all over the world. Furthermore, Cybersecurity Ventures anticipates that the annual global expenses related to cybercrime will reach US $10.5 trillion by 2025, marking a significant rise from the US $3 trillion recorded in 2015.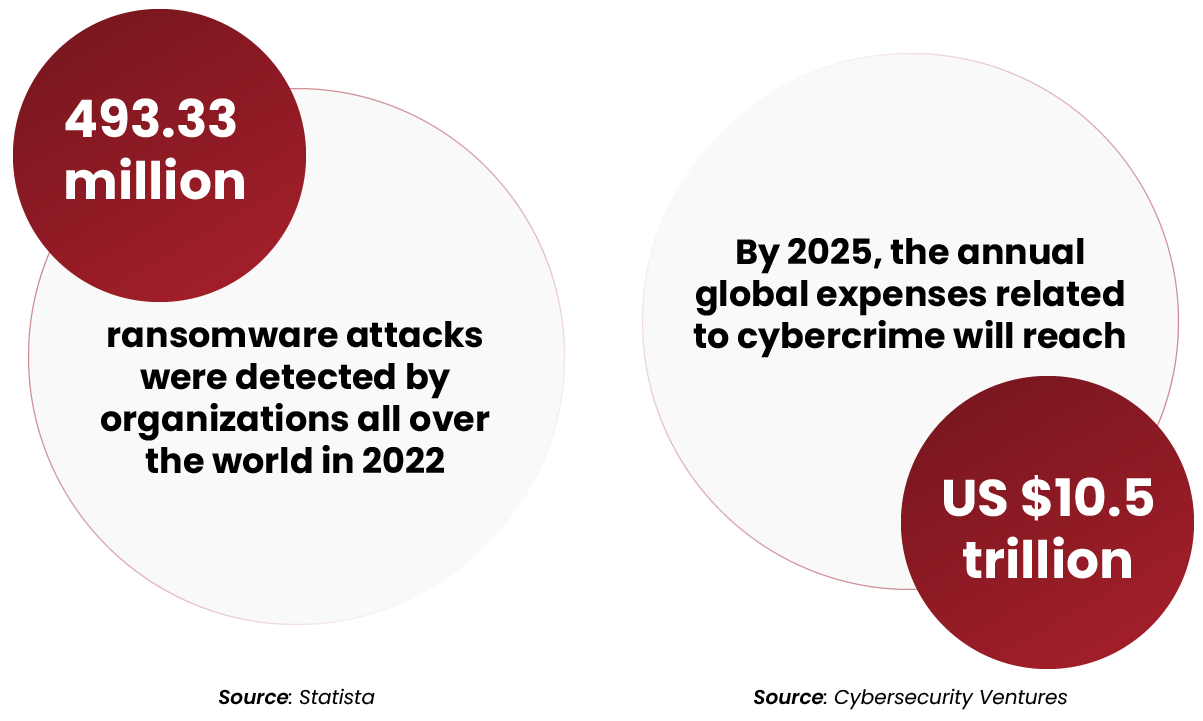 Cybersecurity management and cybersecurity, though intertwined, cater to different aspects of an organization's security posture. Cybersecurity is a broad term that encapsulates the tools, practices, and measures that safeguard digital information from unauthorized access and attacks.
But what exactly is cybersecurity management, and why does it matter? In this article, we will explore the vital role of cybersecurity management, best practices, and the importance of cybersecurity trainings.
Understanding Cybersecurity Management
Cybersecurity management goes beyond the implementation of the right technology; it is an ongoing commitment to protection against continuously evolving cyber threats. It ensures that an organization's sensitive data is safeguarded, maintaining its confidentiality, integrity, and availability.
The importance of cybersecurity management cannot be overstated for any entity. It is critical in averting or mitigating the effects of various cyber threats, including data breaches and malware attacks. Moreover, it ensures compliance with legal and industry standards, thereby bolstering an organization's reputation, customer trust, and giving them a competitive edge.
Recognizing that cybersecurity management is a cyclical and adaptable process is key. It calls for an integrated approach that encompasses not just technology but also the human element, necessitating awareness and training across all organizational levels. Balancing security measures with functional usability, and the integration of prevention and detection strategies is vital for a comprehensive cybersecurity management framework.
Why Cybersecurity Management is Crucial for Organizations?
Cybersecurity management plays an important role in many aspects, such as:
Protection of Assets - As businesses increasingly rely on digital assets, from customer data to intellectual property, cybersecurity management ensures these assets remain protected.
Business Continuity - Effective management means businesses can quickly recover from incidents, ensuring uninterrupted operations.
Building Trust - Customers and stakeholders trust businesses that take cybersecurity seriously. Proper management fosters this trust.
Regulatory Compliance - With the growing number of regulations regarding data protection, organizations must ensure they comply with legal standards. Cybersecurity management includes the development of policies and procedures that align with these regulations, thereby avoiding fines and legal issues.
Risk Management and Reduction - By identifying and assessing risks, cybersecurity management helps organizations prioritize and invest in the most critical areas of their digital infrastructure, reducing the potential for financial losses due to cyber incidents.
Cost Savings - While investing in cybersecurity management may seem like an additional cost, it leads to long-term savings.
Best Practices in Cybersecurity Management
Implementing best practices in cybersecurity management is essential for creating a robust defense against cyber threats and for fostering a resilient organizational culture. Here are key best practices that businesses should adopt:
Conduct Regular Risk Assessments - Continuously identify and evaluate potential vulnerabilities to stay ahead of emerging threats.
Enforce Security Policies and Protocols - Develop, implement, and maintain clear cybersecurity policies to guide safe operations.
Educate and Train Employees - Regularly train staff in security awareness to minimize risks from human error.
Implement Access Control Measures - Use strict access control and multi-factor authentication to limit access to sensitive data.
Stay Current with System Updates - Diligently update and patch systems to protect against known vulnerabilities.
Adopt Secure Configurations - Customize configurations of IT systems for enhanced security, moving away from default settings.
Prepare an Incident Response Plan - Have a well-defined and tested incident response plan for efficient reaction to security incidents.
Encrypt Sensitive Data - Encrypt data in transit and at rest to protect it even in the event of unauthorized access.
Backup Data Regularly - Ensure business continuity with a reliable data backup and recovery strategy.
Monitor Networks and Systems - Use advanced monitoring tools to detect and respond to suspicious activities swiftly.
The Imperative of Training in Cybersecurity Management
In today's ever-evolving threat landscape, ongoing training in cybersecurity management is vital. PECB offers comprehensive training courses to keep professionals updated on the latest threats and mitigation techniques. These training courses also provide valuable certifications that validate expertise in cybersecurity management, fostering a culture of security across the entire organization.
PECB's cybersecurity management training courses deliver practical guidance, equipping individuals with the skills to protect organizations against diverse cyber threats. These insights cover best practices for establishing and maintaining robust cybersecurity programs and safeguarding an organization's critical assets and data.
PECB's Cybersecurity Management training courses include:
Benefits of PECB Cybersecurity Management Certification
A PECB cybersecurity management certificate demonstrates your ability to:
Grasp and apply cybersecurity concepts and principles.
Establish and uphold a cybersecurity management program.
Safeguarding an organization's data and systems.
Manage cybersecurity risks following industry best practices.
Ensure rapid response and efficient recovery during cybersecurity incidents.
Aid organizations in continually enhancing their cybersecurity management programs.
Effective cybersecurity management is no longer an option but a necessity. With rising cyber threats, there is an undeniable need for organizations to prioritize it. Organizations can ensure they remain resilient against cyber threats through structured processes, the right tools, and continuous training.
About the Author
Vlerë Hyseni is the Digital Content Officer at PECB. She is in charge of doing research, creating, and developing digital content for a variety of industries. If you have any questions, please do not hesitate to contact her at: content@pecb.com.
---