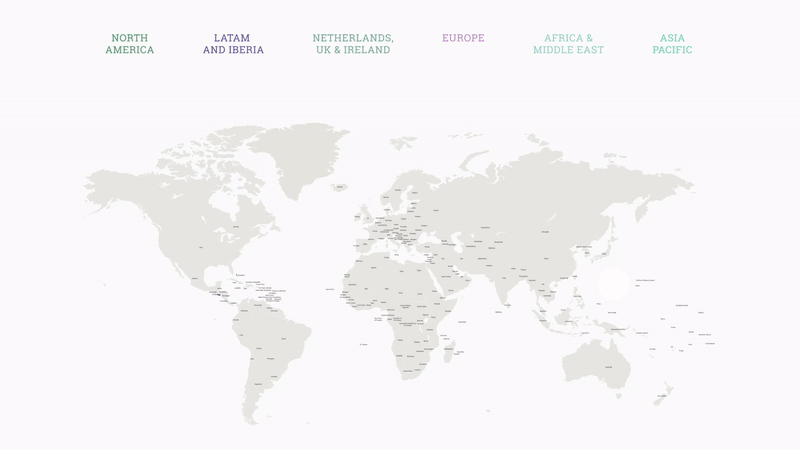 ---
The table below shows the list of PECB Distributors and Attributed Territories where PECB offers its services. If you are interested in operating as a PECB Partner in these territories, we advise you to check the Attributed Territories brochure:
Representative
General Manager
Attributed territories

PECB Latam & Iberia / Sedika Technologies

Bernard Boily

Argentina, Belize, Bolivia, Brazil, Chile, Colombia, Costa Rica, Cuba, Dominican Republic, Ecuador, El Salvador, Guatemala, Guyana, Honduras, Mexico, Nicaragua, Panama, Paraguay, Peru, Suriname, Uruguay, Venezuela, Spain, Portugal, Andorra.

PECB United Kingdom, Ireland and Netherlands
Graeme Parker
United Kingdom, Ireland, Anguilla, Bermuda, British Virgin Islands, Cayman Islands, Monserrat, Turks, Caicos Islands, Netherlands, Curacao, Aruba, Sint Maarten, Jersey (Channel Islands).

PECB Europe

Erita Rexhepi

Italy, Malta, San Marino, Germany, Austria, Belgium, Luxembourg, Switzerland, France, Monaco, Réunion, French Guiana, Faroe Islands, Guadeloupe, Martinique, Saint Barthelemy, Mayotte, Saint Martin, and Saint Pierre et Miquelon, Liechtenstein, Poland, Czech, Slovakia, Hungary, Russia, Belarus, Lithuania, Latvia, Estonia, Ukraine, Moldova, Romania, Bulgaria, Slovenia, Croatia, Serbia, Bosnia and Herzegovina, Montenegro, Kosovo, North Macedonia, Albania, Greece, Turkey, Cyprus, Sweden, Norway, Finland, Denmark, Greenland, Iceland.

PECB Asia-Pacific
Bekim Shala

Afghanistan, Armenia, Azerbaijan, Bangladesh, Bhutan, China, Georgia, Hong Kong - China, India, Japan, Kazakhstan, Korea, Republic North Korea, Kyrgyzstan, Maldives, Mongolia, Nepal, Pakistan, Sri Lanka, Taiwan, Tajikistan, Turkmenistan, Uzbekistan, Australia, Cook Islands, Fiji, Kiribati, Marshall Islands, Macau - China, Micronesia, Nauru, New Zealand, Niue, Palau, Papua New Guinea, Samoa, Solomon Islands, Tonga, Tuvalu, Vanuatu, Brunei, Cambodia, East Timor, Indonesia, Lao, Malaysia, Myanmar, Philippines, Singapore, Thailand, Vietnam.

PECB Africa and Middle East
Arban Bislimi

Algeria, Angola, Bahrain, Benin, Botswana, Burkina Faso, Burundi, Cameroon, Cape Verde, Central African Republic, Chad, Comoros, Ivory Coast, Democratic Republic of the Congo, Djibouti, Egypt, Equatorial Guinea, Eritrea, Ethiopia, Gabon, Gambia, Ghana, Guinea, Guinea-Bissau, Iran, Iraq, Israel, Jordan, Kenya, Kuwait, Lebanon, Lesotho, Liberia, Libya, Madagascar, Malawi, Mali, Mauritania, Mauritius, Morocco, Mozambique, Namibia, Niger, Nigeria, Oman, Palestine, Qatar, Republic of the Congo, Rwanda, Saint Helena, Sao Tome and Principe, Saudi Arabia, Senegal, Seychelles, Sierra Leone, Somalia, South Africa, South Sudan, Sudan, Eswatini, Syria, Tanzania, Togo, Tunisia, Uganda, United Arab Emirates, Western Sahara, Yemen, Zambia, and Zimbabwe.

PECB North America
Ardian Berisha

United States (including American Samoa, Guam, Northern Mariana Islands, Puerto Rico, and US Virgin Islands)

Caribbean (including Antigua and Barbuda, Bahamas, Barbados, Dominica, Grenada, Haiti, Jamaica, Saint Kitts and Nevis, Saint Lucia, Saint Vincent and the Grenadines, Trinidad and Tobago).
---



If you would like to contact PECB or PECB Distributors, please drop a ticket by clicking below.

Submit Ticket