What is a digital badge?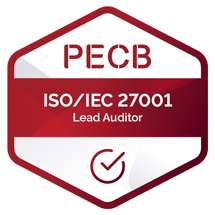 Digital badges are a powerful online representation that lets you showcase your professional knowledge and skills obtained through your professional development. Digital badges are indicators of your accomplishments, which help you to get the recognition you have earned. They inspire new pathways to learn and lead to new professional opportunities.
PECB has partnered with Credly to offer you the chance of earning a digital badge. The badges can be shared online safely and easily. Make sure that once you get the notification that you have been awarded a digital badge, claim your badge and share it on social media channels or embed it on your CV or business card.
How do digital badges work?
Digital badges contain shareable information about the organization that has issued the badge, the person who earned the badge, criteria for obtaining the badge, issue and expiration date, and achievement evidence. Each digital badge is associated with an image and metadata that provides information about what the badge represents.
What are the benefits of a digital badge?
Among others, digital badges:
Demonstrate recognition of competency, commitment to the profession, and engagement in professional development
Demonstrate willingness to learn, grow, and get career enhancement opportunities
Demonstrate that you are up to date with the latest standards, trends, methodologies, and technology in your industry
Lead to new professional opportunities and increase your chances for better earning
Who is eligible for a digital badge?
Individuals who have obtained a certificate with PECB will be eligible to obtain a digital badge.
How to claim and share your digital badge(s)?
Claiming your Digital Badges from your PECB Account
Login in your PECB Account here.
Click on Certifications > My Certifications
Click the Claim my Badge button. Clicking the link will redirect you to Credly's website.
Upon redirection to Credly's site, you may be prompted to sign in or register. If already logged in, you can access your Credly account automatically. (This depends on whether your browser is set to save your credentials for webpages).
If you are not registered, please provide the required information and click Create Account. Here please input the email associated with your PECB Account.
After you create your account, click on the Confirm Your Email button
Check your email inbox and follow the instructions there to continue. Sign in with the credentials you created.
On Credly's site, you will see an option to Accept Badge
Your badge now displays a Share option
You can choose to share your digital badge across multiple platforms, such as LinkedIn, Twitter, Facebook, Email, URL, etc.
Important note: You will have to create a Credly account (if you haven't already) with the same email address as your PECB Profile in your myPECB Dashboard. Your digital badge will then be available to be accepted and used.
If you already have an account with Credly, please make sure the email address of your PECB profile is added to your Credly account. To do this, please login here, and click on Settings > Account > Email Addresses.
Note: This feature is ONLY available in the Redesigned Dashboard, which can be accessed through the following link beta.pecb.com or through the pop-ups available within the Classic Dashboard.
FAQs
What is Credly?
Credly is a digital badging platform that transforms knowledge, skills, and achievements into digital credentials that empower individuals to connect with learning and career opportunities. Accepting, storing, and sharing digital badges is done in an easy and safe way.
---
What is the relationship between PECB and Credly?
PECB is working with Credly, the digital credentialing leader, to provide digital badges for PECB certificates. Through Credly, you will be able to accept, manage, store, and share your badges.
---
How to claim your badge for each certificate, if you hold multiple PECB certificates?
Every valid PECB certificate will have a link to its corresponding digital badge. Selecting the link will redirect you to Credly's website.
You may be automatically logged in. This depends on whether your browser is set to save your credentials for webpages. Once logged in, the details of your digital badge are displayed with an option to "Share" your badge.
Login in your PECB Account here and click on My Certifications tab. Here you will see the details for all of your PECB certificates.
---
Are Digital Badges only issued for new certificates?
Digital Badges are available for new and historic certificates. If you obtain a new certificate you will also be issued a Digital Badge, and the instructions to claim it will be available in the email confirming you have obtained a new certificate. If you obtained a certificate in the past, you will be able to claim your badge by following the instructions received in the email address connected to your PECB account, which was sent on February 23, 2023, to all our certificate holders.
---
What happens if my certificate gets revoked or invalidated?
If your certificate gets revoked or invalidated, your digital badge will be revoked.
---
What happens if my certificate gets renewed, upgraded, or downgraded?
For every new certificate, you will be issued a new digital badge. This means that if your certificate will get renewed, upgraded or downgraded, you will be issued a new digital badge.
---
Who should I contact if there are issues with my PECB badge?
Please submit a ticket through this link (select Digital Badge Category) and we will get back to you.
---