Trainer Profile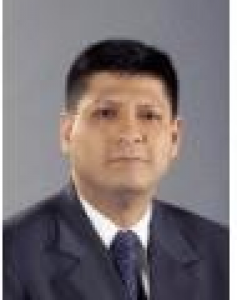 Victor Hugo Santiago Campos Medina
Contact Details
Current Employer:
Freelance
Province / State / Region:
Lima
Teaching Experience (Years)
20
+
Professional Experience (Years)
25
+
Profile Summary
Víctor es Gerente de la división de Advisory Services de la oficina de EY Perú. Cuenta con más de 25 años de experiencia en el Sector Privado y Público, 22 de ellos en materia de auditoria de sistemas, auditoria de riesgos de sistemas de información, seguridad de información, y gobierno y gestión de TI en la empresa. Su mayor experiencia proviene de labores de auditoria de sistemas y consultor de TI en una Big Four, teniendo a su cargo un equipo de profesionales con los que atiende una cartera de clientes de diversos sectores de negocio. Ha hecho servicios extensivos a las empresas reconocidas del mercado peruano en el sector de banca, finanzas, seguros, industrial, comercial, energía, en mas de 800 clientes durante el desarrollo de su experiencia profesional. Ha aplicado los marcos de trabajo en los que está certificado a nivel de auditoria, asesoría e implementación, teniendo participación activa ya sea como senior, gerente y coordinador del servicio. Adicionalmente, cuenta con las certificaciones CISA, CISM, CRISC, y maestrias en Administración, Dirección y Gestión de Empresas (MBA) y maestria en Dirección Estratégica de TI. Algunos de los proyectos en los que ha participado o viene participando en su carrera profesional: Diagnóstico de control interno de TI basado en Cobit en empresa de energía (Octubre 2010). Implementación de procesos y controles de TI basado en Cobit en empresa de energia (Marzo 2011). Auditoria Interna de TI en empresas de consumo masivo (2004 al 2008). Auditoria Interna de TI en empresa de alimentos (2004 al 2013). Diagnóstico de segregación de funciones en el sistema SAP para la empresas mineras (2012). Diagnóstico de brechas de Ciberseguridad en sector comunicación (2018). Rediseño de procesos de TI y alineamiento a políticas corporativas en empresa de servicios (2018). Auditoria de TI en Bolivia y Ecuador (2018). Desde el año 2013 es instructor oficial de PECB para los esquemas de acreditación de las normas ISO indicadas en su perfil, aplicando el conocimiento teórico con aplicaciones prácticas en su vida profesional, lo cual permite lograr que los participantes puedan entender y aplicar los conceptos de normas ISO en sus organizaciones. En los últimos años ha certificado de manera efectiva a muchos profesionales del mercado peruano, y ha permitido difundir las normas de manera concreta y adecuada para la mejor aplicación. Actualmente viene incrementando el alcance de las normas ISO en el país considerando las necesidades de las Compañias, teniendo especial cuidado en ofrecer un entrenamiento de calidad y reforzando el debido cuidado profesional para el desarrollo de la profesion de Gerente, Auditor e Implementador.
Trainer specialities and experience
Here is a detailed description of the courses that the trainer is specialized in and their related experience.