iCertWorks awarded Platinum Reseller status with PECB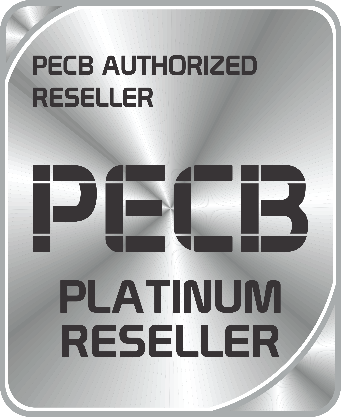 (22nd August, 2018) – PECB is proud to announce that iCertWorks has been awarded the Platinum Reseller status with PECB. Congratulations to iCertWorks for demonstrating an outstanding level of commitment during this year, and a significant contribution to our global reseller network. The Platinum Partnership Level designation acknowledges the pivotal role that iCertWorks plays in delivering world-class PECB training courses and audit services across the world. iCertWorks was also awarded the PECB North America 'Reseller of the year 2017' award at the international PECB Insights Conference held last year in Montreal, Quebec.
iCertWorks CEO/President, Dave Anders commented: "We are proud to achieve 'Platinum Reseller' status with PECB Group, which is the highest PECB status available. iCertWorks has steadily built its business to now offer over sixty plus (60+) ISO Training Classes for individuals and over twenty plus (20+) ISO Certifications for organizations. iCertWorks amazing growth is centered at keeping our clients costs affordable, providing excellent customer service and providing a highly experienced staff. We have a simple business philosophy of always doing what's in our clients' best interest! We are now positioned to expand our PECB training and certification business into Europe, Africa and the Middle East (EMEA), starting from the 3rd Quarter of 2018."
If you're interested in finding out more about PECB Partnership Levels or how to become a PECB reseller, please check the following link: https://pecb.com/en/how-to-become-a-reseller.
About PECB
PECB is a certification body for persons, management systems, and products on a wide range of international standards. As a global provider of training, examination, audit, and certification services, PECB offers its expertise on multiple fields, including but not limited to Information Security, IT, Business Continuity, Service Management, Quality Management Systems, Risk & Management, Health, Safety, and Environment.
We help professionals and organizations show commitment and competence by providing them with valuable education, evaluation and certification against rigorous internationally recognized standards. Our mission is to provide our clients comprehensive services that inspire trust and continual improvement; demonstrate recognition and benefit the society as a whole. For additional information about PECB's principal objectives and activities, please visit www.pecb.com.
For additional information from PECB North America, contact us at: north.america@pecb.com
For Accredited Training, Certification or Audit Service inquiries, please contact iCertWorks at 855-476-2701 or visit their website: www.iCertWorks.com
---