PECB signs a partnership agreement with Digital Encode Limited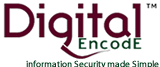 (April 29, 2016) – PECB is proud to announce that it has signed a new partnership agreement with Digital Encode Limited, to distribute PECB training courses in Nigeria. This partnership will ensure that the respective companies will give their contribution based on their expertise in offering and organizing PECB ISO 27001, ISO 20000, ISO 27034, ISO 27032 and any other PECB course listed in the website.
"We are very excited for this agreement, and we promise we will provide our full-time services and best efforts on behalf of this partnership. I personally feel profoundly honored and exceedingly delighted to sign this agreement with Digital Encode Limited," said Eric Lachapelle, CEO of PECB.
"We have always welcomed partnership opportunities with such companies that are consistent with and appropriate to our mission. The past years have witnessed tremendous growth in our partnership program, and initiatives aimed specifically at developing and sustaining intentional partnerships have been an important factor to our success. We both have great teams of professionals and resources that will be a great support to this partnership," added Lachapelle.
"We are immensely joyful with this strategic partnership with PECB and we believe the partnership will increase our capacity building drive to make Nigeria the "Cyber security & IT GRC KNOWLEDGE HUB of Africa. Therefore, this agreement will bring people of Africa the trainings that they need to respond to the market request," said Oluseyi Akindeinde, the CEO at Digital Encode Limited.
About PECB
PECB is a certification body for persons, management systems, and products on a wide range of international standards. As a global provider of training, examination, audit, and certification services, PECB offers its expertise on multiple fields, including but not limited to Information Security, IT, Business Continuity, Service Management, Quality Management Systems, Risk & Management, Health, Safety, and Environment.
We help professionals and organizations to show commitment and competence with internationally recognized standards by providing this assurance through the education, evaluation and certification against rigorous, internationally recognized competence requirements. Our mission is to provide our clients comprehensive services that inspire trust, continual improvement, demonstrate recognition, and benefit society as a whole. For further information about PECB and for the full list of standards, please visit
http://www.pecb.com
.
About Digital Encode Limited
Digital Encode is a leading consulting and integration firm founded in 2003 that specializes in the design, management, and security of business-critical networks, telecommunications environments and other Information Technology (IT) infrastructures.
Recognized in the industry for its vendor independent perspective, the firm's expertise lies in solving multifaceted, complex enterprise security and audit problems. At Digital Encode, technology serves two purposes: to make money and to save money.
Digital Encode also provides advisory services toward improvements in Information Security Management, Network Security, Vulnerability Management, Penetration Testing, Computer Forensics, Risk Management, Business Continuity Management and IT Governance. For more information, visit
www.digitalencode.net
.
---