PECB Signs a Partnership Agreement with eDelta Consulting Inc.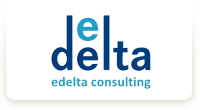 PECB is proud to announce that it has signed a new partnership agreement with eDelta Consulting, Inc. to distribute PECB training courses in North American market. This partnership will ensure that the respective companies will give their contribution based on their expertise in offering and organizing PECB professional courses.

"We are very excited for this agreement, and we promise we will provide our full-time services and best efforts on behalf of this partnership. I personally feel profoundly honored and exceedingly delighted to sign this agreement with eDelta Consulting, Inc.," said Eric Lachapelle, CEO of PECB. "We have always welcomed partnership opportunities with such companies that are consistent with and appropriate to our mission. The past years have witnessed tremendous growth in our partnership program, and initiatives aimed specifically at developing and sustaining intentional partnerships have been an important factor to our success. We both have great teams of professionals and resources that will be a great support to this partnership," added Lachapelle.

"eDelta Consulting, Inc. is pleased to announce our partnership with PECB to provide a wide-range of training and certification courses for the international ISO standards. This partnership will enable us to meet the ever increasing need for training in this area. They are leaders in certification training, and we are pleased to be associated with them," said Jon Bosco, Managing Partner of eDelta Consulting, Inc.

About PECB
PECB is a certification body for persons on a wide range of international standards, including ISO 9001, ISO 14001, ISO/IEC 20000, ISO/IEC 27001, ISO/IEC 27005, ISO 22301, ISO 26000, ISO 22000, OHSAS 18001, ISO 28000, ISO 50001, Certified Lead Forensics Examiner, etc.

PECB has earned a reputation for integrity, value and best practice by providing this assurance through the evaluation and certification of professionals against rigorous, internationally recognized competence requirements. Its mission is to provide their clients comprehensive personnel examination and certification services. For further information about PECB and for the full list of standards, please visit: http://www.pecb.com.

About eDelta Consulting
Founded in 2000, eDelta Consulting, Inc. is an assurance and advisory firm comprised with over 40 full-time professionals providing "expertise" and "talent" on a project based, staff-augmentation, and/or full-time placement perspective. Our core disciplines span across departments within an organization including Finance, Accounting, Internal Audit, Risk, Compliance and most importantly Technology. Our core team and our extended network bring decades of experience from major accounting and consulting firms, Fortune 500 Companies, and Government entities. With offices in the US, Caribbean and Canada, as well as a network of international partners, eDelta can provide solutions to the most complex and distributed organizations. eDelta provides training through its sister firm, eDelta CPA Services, P.C. Please visit: http://www.edeltaconsulting.com for more information.
---