PECB Wins Best Cybersecurity Education Provider Award for the Fifth Year in a Row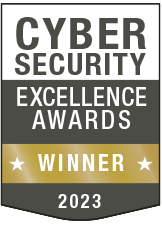 Date: 2023-03-02
We are proud to announce that we have been awarded the Best Cybersecurity Education Provider Award for the fifth consecutive year.
The award, presented by Cybersecurity Excellence Awards, recognizes PECB's commitment to delivering high-quality cybersecurity education and training to professionals around the world. PECB has been at the forefront of cybersecurity education, offering a wide range of training and certification programs to help individuals and organizations stay ahead of the ever-evolving cybersecurity threat landscape.
"We are honored to receive this prestigious award for the fifth year in a row," said Tim Rama, CEO of PECB. "This recognition is a testament to our ongoing commitment to delivering world-class cybersecurity education and training. We believe that education is key to mitigating the risks of cyber-attacks and helping individuals and organizations build strong and resilient cybersecurity defenses."
PECB's cybersecurity training and certification programs cover a wide range of topics, including information security management, ethical hacking, incident management, and cloud security. We also offer customized training solutions to meet the specific needs of organizations and their employees.
About PECB
PECB is a certification body that provides education, certification, and certificate programs for individuals on a wide range of disciplines. We help professionals and organizations show commitment and competence by providing them with valuable education, evaluation, certification, and certificate programs against rigorous internationally recognized standards. PECB continuously publishes topmost innovative training courses through its best experts in the field for the provision of education, certification, and certificate program services. PECB's expertise is in multiple fields, with a special emphasis in:
Information Security & Resiliency
GRC and Privacy
Quality and Sustainability
Contact Information
To learn more about PECB and its cybersecurity education and training programs, please visit www.pecb.com or contact us at marketing@pecb.com.
About Cybersecurity Excellence Awards
The Cybersecurity Excellence Awards recognizes and honors individuals and companies that demonstrate excellence, innovation, and leadership in the field and community of information security. The awards are produced by Cybersecurity Insiders in partnership with the Information Security Community on LinkedIn, tapping into the vast experience of over 400,000+ cybersecurity professionals to honor the world's best cybersecurity products, professionals, and organizations.
---