PECB – Winner of Best Cybersecurity Education Provider Award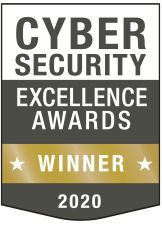 PECB is proud to announce that it has been awarded with the Best Cybersecurity Education Provider Gold Award (North America, between 100 ꟷ 499 employees) by the Cybersecurity Excellence Awards.
By working with a selected community of trainers, auditors, experts, and thought leaders, PECB delivers practical and high-quality content that is accessible anytime and anywhere in the world.
Eric Lachapelle, the CEO of PECB, on the winning of the award, stated that "We have been awarded the Best Cybersecurity Education Provider and the Cybersecurity Educator of the Year awards in the 2019 Cybersecurity Excellence Awards, and winning the 2020 award means a lot as it is a showcase of the continued hard work that the PECB team and network does every day to make sure that we provide the best quality of training materials and education. This recognition speaks for itself and we are extremely delighted to receive it."
Holger Schulze, CEO of Cybersecurity Insiders and founder of the 500,000-member Information Security Community on LinkedIn which organizes the 5th annual Cybersecurity Excellence Awards, congratulated PECB for winning the award: "We congratulate PECB for their recognition as a Gold award winner in the Best Cybersecurity Education Provider (North America, between 100 ꟷ 499 employees) category of the 2020 Cybersecurity Excellence Awards." Holger further emphasized that "With over 500 entries in more than 90 award categories, the 2020 Cybersecurity Excellence Awards program is highly competitive and all winners reflect the very best in innovation and excellence in tackling today's urgent cybersecurity challenges."
About PECB
PECB is a certification body for persons on a wide range of international standards. As a global provider of training, examination, and certification, PECB offers services in multiple fields, including, but not limited to, Information Security, Information Technology, Service Management, Quality Management, Risk and Management, Health, Safety, and Environment. PECB has earned an international reputation for integrity, value, and best practice by providing this assurance through the evaluation and certification of professionals with rigorous, internationally recognized competence requirements. PECB's mission is to provide its clients comprehensive services that inspire trust and benefit society as a whole. For more information, please visit www.pecb.com.
About Cybersecurity Excellence Awards
The Cybersecurity Excellence Awards is an annual competition honoring individuals and companies that demonstrate excellence, innovation, and leadership in information security. The awards are produced by Cybersecurity Insiders in partnership with the Information Security Community on LinkedIn, tapping into the vast experience of over 400,000+ cybersecurity professionals to honor the world's best cybersecurity products, professionals, and organizations.
---