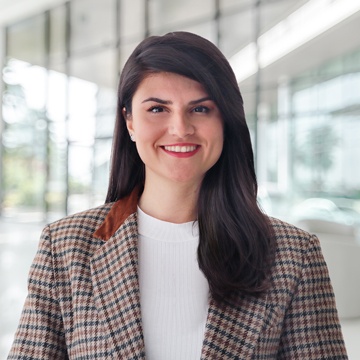 Arrita Hasani
E-Commerce and Operational Administrative Director
Arrita is responsible for managing and supervising the Human Resources, Documentation, Legal and E-Store Department.
As PECB's E-Commerce and Operational Administrative Director, Arrita develops and carries out strategic plans, and at the same time maintains employee relations based on a unique corporate culture. Her extensive experience, strong leadership qualities, good planning and organizational skills enable her to deal with confidential information, initiating and leading a strategic approach so that PECB achieves its success on becoming a global benchmark in the certification industry.
Her attention to detail and experience in management, sales, business development, and human relations enables her to manage the desired results by providing guidance to her teams in order to reach the highest levels of success.
Arrita graduated from the Faculty of Electrical and Computer Engineering at the University of Prishtina, where she is now pursuing a master's degree in Telecommunications She has also obtained certificates on various ISO/IEC management system standards in Information Security and Quality Management.
---