Lean Management: A Comprehensive Guide

Lean management is a popular approach that embraces the idea of continuous improvement. Through a systematic and long-term strategy, lean management aims to achieve gradual development and increase efficiency within an organization.
The lean management approach was originally developed by Toyota in the 1940s as part of the Toyota Production System, and since then, it has been adopted by organizations in a variety of industries.
The importance of lean management in today's business world cannot be overstated. With global competition increasing and customer demands becoming more complex and varied, organizations are under constant pressure to become more efficient, productive, and customer-focused.
Main Principles of Lean Management
The key principles of lean management are: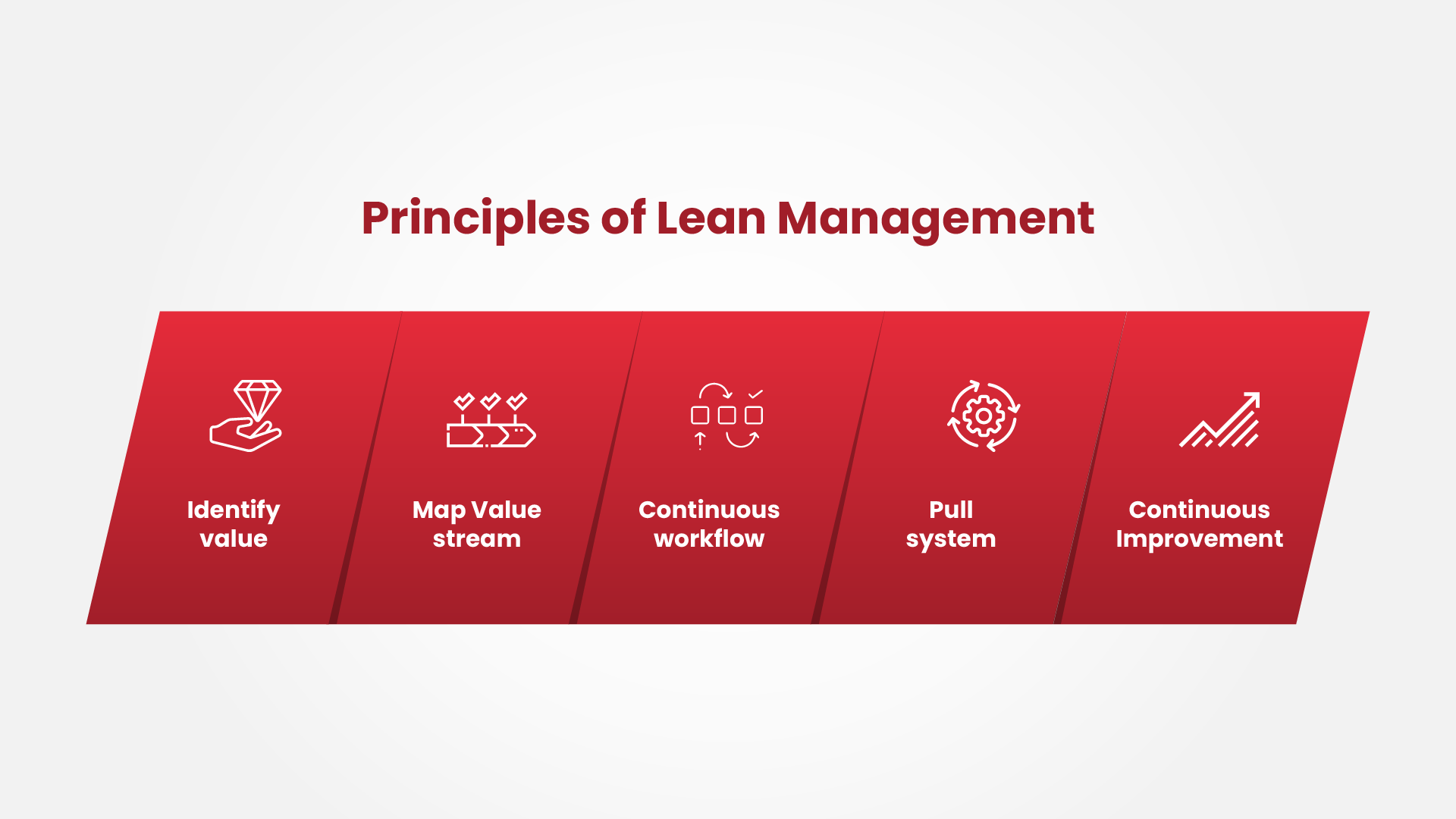 Identify value – Understand the needs and preferences of the customer, identify what is valuable to them, and focus on delivering that value.
Map value stream – Once the value has been identified, map out the organization's value stream, including all the processes involved in creating and delivering the product or service.
Continuous workflow – Optimize the flow of work to minimize waste and improve efficiency. Design processes that enable work to move smoothly and quickly from one step to the next, without delays or interruptions.
Pull system – Create a pull-based system, where products and services are produced in response to customer demand, rather than in anticipation of it. This helps to minimize overproduction, reduce inventory, and improve responsiveness to changing customer needs.
Perfection/Continuous improvement – Strive for continuous improvement in all aspects of the organization. This involves setting ambitious goals, measuring progress, and constantly seeking out opportunities to improve processes, products, and services.
Seven Types of Waste
"Muda" or waste in Japanese is a lean management concept for wastefulness, and is subdivided in seven categories. The seven types of waste are:
Overproduction – Producing more than is needed or producing too soon, which can lead to excess inventory, wasted resources, and increased lead time.
Waiting – Delays or idle time in the production process, such as waiting for materials or waiting for a machine to become available.
Transportation – Unnecessary movement or transportation of materials or products, which can add to lead time, increase the risk of damage or loss, and waste resources.
Over Processing – Performing unnecessary or redundant tasks, or using more resources than needed, which can add cost and time to the production process.
Inventory – Excess inventory that is not needed for immediate production, which ties up capital and storage space, can result in obsolescence and waste.
Motion – Unnecessary or excessive movement of people or equipment, which can be tiring, time-consuming, and can increase the risk of injury.
Defects – Any errors or mistakes that result in rework or scrap, which adds cost and delays to the production process and can lead to customer dissatisfaction.
By identifying and eliminating these types of waste, organizations can improve their processes, reduce costs, increase efficiency, and improve customer satisfaction.
The success of lean management relies heavily on the engagement and collaboration of employees at all levels of the organization, as well as commitment to ongoing improvement and willingness to experiment with new ideas and processes.
Different Lean Management Methodologies and Tools
There are various lean management tools and techniques used for different processes. Some of the most popular ones are:
5S
5S is a lean management methodology that stands for its five steps:
Sort (Seiri) – This involves separating items into necessary and unnecessary categories and getting rid of anything that is not needed.
Set in Order (Seiton) – This step involves organizing the necessary items in a logical and efficient way. Everything should have a designated place and be easily accessible.
Shine (Seiso) – This step involves cleaning and maintaining the workplace to ensure that it is safe and efficient.
Standardize (Seiketsu) – This step involves creating clear and consistent processes for implementing the first three S's, as well as establishing performance metrics to measure progress.
Sustain (Shitsuke) – This final step involves making 5S a habit and maintaining the improvements long term.
Its main goal is to create an organized, clean, and efficient workplace which will help to reduce waste, increase productivity, and improve safety.
Six Sigma
Six Sigma is a quality management methodology and a data-driven approach to quality control that focuses on minimizing defects and reducing variability in processes. Two main methodologies of Six Sigma are the DMAIC (Define, Measure, Analyze, Improve, and Control) process and the DMADV (Define, Measure, Analyze, Design, and Verify) process.
Visual Management
Visual management is an essential component of lean management which uses visual cues, such as diagrams, charts, and graphs to provide a clear and concise picture of the process and its performance. It is important as it serves for communication, standardization, continuous improvement, and problem-solving.
Kaizen
Kaizen is a structured approach to continuous improvement. It focuses on identifying and eliminating waste, reducing defects, improving productivity, and enhancing customer satisfaction. The Kaizen process involves all employees, from top management to other levels and it involves the Plan, Do, Check, Act (PDCA) cycle. The overall goal of the Kaizen is to make small changes over a period of time to create improvements within a company.
SMED
Single Minute Exchange of Dies (SMED) is a technique used to reduce the amount of time required to switch or prepare a machine for a different process and shorten it to less than 10 minutes. This can be accomplished by performing as many tasks as possible while the equipment is still functioning and by making the remaining steps simpler, more straightforward and efficient.
Kanban
Kanban is a visual management tool often used as part of the lean management approach. It is a system designed to help organizations manage workflow, reduce inventory levels, and improve overall efficiency.
Kanban is based on the principle of "pull" production, which means that materials or work items are only produced when they are needed. This helps to avoid overproduction and excess inventory. In a Kanban system, work items are represented by cards or other visual signals, which are moved through a series of stages or processes.
Value Stream Mapping (VSM)
Value Stream Mapping (VSM) is a lean management tool that is used to analyze, design, and improve the flow of materials and information through a process or system. VSM is a visual representation of various steps involved in taking a product or service from the idea phase to delivery. VSM also helps to identify waste and inefficiencies in a process and create a plan or strategy to reduce them.
Key Performance Indicators (KPIs)
Key Performance Indicators (KPIs) are important metrics used in lean management to track and measure progress toward achieving specific goals and objectives. KPIs are essential for understanding how well a lean management system is working and for identifying areas where improvements can be made.
Benefits of Lean Management
Lean management can provide a lot of benefits to organizations that successfully adopt its principles and practices. These benefits can help organizations to improve their operations, reduce waste, and enhance customer value. Here are some of the key benefits of lean management: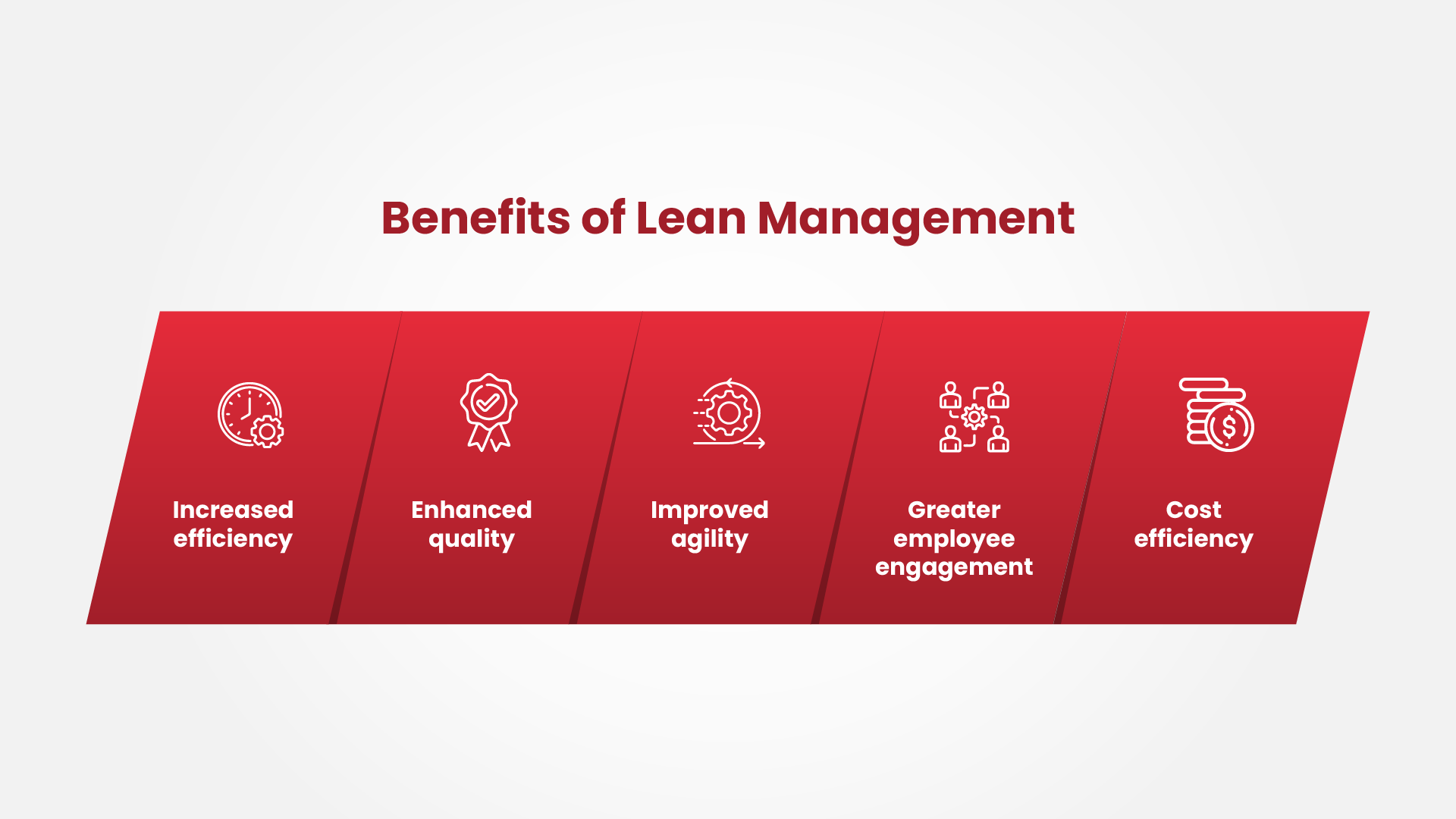 Increased efficiency – Lean management can increase efficiency by minimizing waste and eliminating unnecessary steps involved in processes. By streamlining operations and increasing their effectiveness, lean management reduces expenses, shortens lead time, and increases profitability.
Enhanced quality – Lean management emphasizes focus on quality, which means that businesses are more likely to deliver products and services that meet or exceed customer expectations. This can result in increased customer satisfaction and loyalty, as well as a stronger reputation for quality.
Improved agility – Lean management encourages businesses to be more agile and responsive to changes in the marketplace. It also empowers employees to identify and solve problems quickly, so businesses stay ahead of their competitors.
Greater employee engagement – Lean management emphasizes the importance of involving employees at all levels in the improvement process. This can lead to greater engagement, job satisfaction, and morale, as employees feel empowered to contribute to the success of the business.
Cost efficiency – Businesses can achieve significant cost saving by eliminating waste and reducing activities that do not add any value to processes. Freeing up resources means that they can be used to invest in growth, innovation, and other strategic initiatives.
Lean management and ISO 9001
ISO 9001 specifies requirements for the establishment, implementation, operation, maintenance, and continual improvement of a quality management system (QMS). The use of ISO 9001 ensures that customers receive consistently high-quality products and services, which in turn brings numerous benefits to businesses.
Lean management and ISO 9001 are two different approaches to improving organizational performance. However, they can be complementary, and many organizations have successfully integrated both approaches to achieve their goals.
About the Author
Vlerë Hyseni is the Digital Content Officer at PECB. She is in charge of doing research, creating, and developing digital content for a variety of industries. If you have any questions, please do not hesitate to contact her at: content@pecb.com.
---