Digital Transformation Challenges and How to Overcome Them?

Digital transformation is the process of using digital technologies to improve the overall processes, culture, services, and customer experiences. As new technologies are being developed and improving rapidly, organizations are focused to stay updated with the newest trends and integrate these innovations.
Many organizations are incorporating technology into almost all aspects of their internal and external operations. This incorporation of technology is impacting their processes and operations significantly, leading to organizational and structural changes.
The main benefits of digital transformation in organizations are:
Modernizing processes
Optimizing workflow
Strengthening security
Increasing profitability
Digital Transformation Difficulties
Digital transformation does not only mean adopting new technologies but also adopting new business models. This indicates that organizations should well-understand digital transformation and consider every factor, starting with the way employees will react to the way it will impact their customers.
Nowadays, almost every organization considers digital transformation and according to Gartner, 91% of them are already engaged in some form of digital initiative. As they are pursuing digital technologies and digital transformation, they are also channeling huge investments toward it. By 2025, global digital transformation investment is predicted to reach US $2.8 trillion, up from US $1.8 trillion in 2022.
However, although so many organizations start on this journey easily, some of them find it difficult to complete. In fact, according to BCG around 70% of digital transformation programs are not successful and fail to reach their stated goals. In terms of money, organizational effort, and time lost, such results are massively costly.
So, considering all these facts, we can conclude that even though digital transformation can sometimes be challenging to achieve, its benefits and advantages make it almost inevitable in today's industries.
Digital Transformation Challenges
Whenever an organization goes through fundamental changes, it is expected to also experience various challenges and difficulties. This also applies to digital transformation, and if the transition does not happen smoothly organizations can face some challenges.
The most common digital transformation challenges are: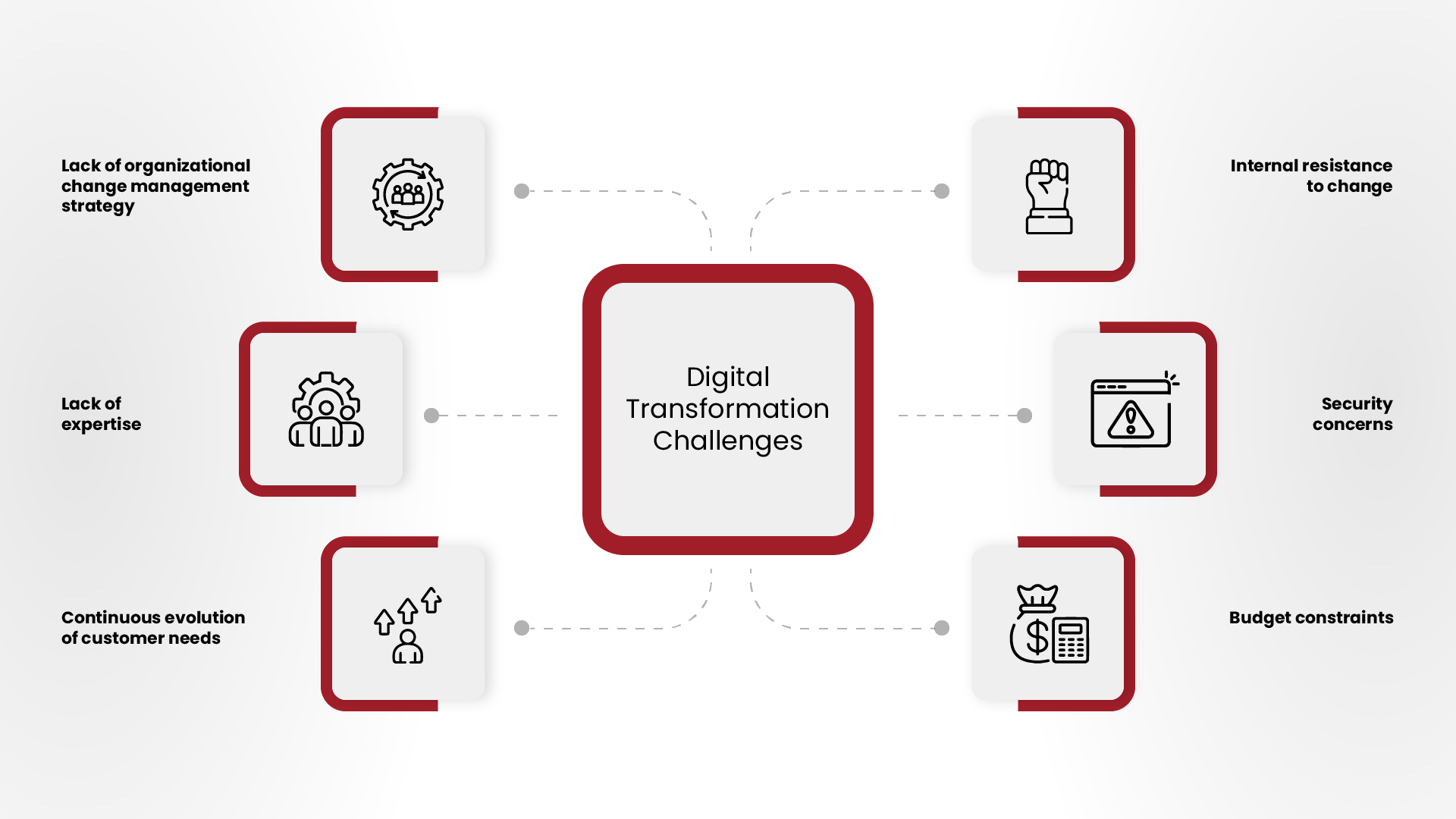 1.
Lack of organizational change management strategy

Organizational change management refers to an organized approach to managing changes in an organization, in this case, to managing digital transformation. It can be difficult, however, it is crucial. The lack of proper organizational change management can negatively impact an organization's digital transformation which is why it is one of the primary reasons for the high failure rate.

Furthermore, organizational change management focuses on various components of an organization rather than only one. For example, it starts from the top and involves changes in culture, mindset, processes, structures, to the whole business model. Having a strong and effective change management strategy is vital for success as it increases the likelihood for an organization to achieve its transformation objectives.
2.
Lack of expertise

When an organization aims digital transformation, the lack of expertise could threaten its journey. Considering how complex digital transformation strategies are, the right skill and knowledge set are required to implement the necessary changes.

According to KPMG, organizations have reported talent gap issues that threaten to slow down digital transformation. 44% of the survey respondents said that a shortage of experts hindered the progress, 32% said that adding new talent and new systems is costly, and 29% said that a lack of skills to implement these systems led to delayed progress. Organizations lack employees with adequate skills in digital transformation procedures, cybersecurity, application architecture, and other related IT and non-IT fields.

Some of the most valuable and in-most-demand skills are in these areas:

A way to close this digital skill gap is to educate and train employees so that they can successfully adapt to the digital transition.
3.
Continuous evolution of customer needs

Customers' expectations and demands have advanced as a result of evolving developments and improvements in customer service, and this poses a challenge for many organizations. Even when organizations put years of effort into digital transformation, customers' needs can change throughout that time as they are constantly looking for more intuitive and enhanced services. This means that extra effort is needed to implement the new digital technologies that would meet the continuous evolutions of customer needs.
4.
Internal resistance to change

Despite their fascinating ability to adapt to changes, humans by their nature tend to enjoy comfort and routine as it gives them a sense of security. Changes, especially the big ones, can make people feel uncomfortable and cause stress for some, impacting their well-being. That is why, when organizations are going through digital transformation, they can experience employee pushback.

The best way to handle it is by keeping employees engaged through the whole process and being transparent with them. Furthermore, leaders need to be aware that even when doing everything right, if the transitional period is short, all the fast changes and all the new tools, processes, and technologies can impact their performance and efficiency. That is why it is important to start with a slow transition as it helps people shift their mindset and prepare for the new changes.
5.
Security concerns

As organizations adopt remote work, digital processes, and cloud-based technology, they are exposed to higher levels of risk. Consequently, they are required to implement higher security measures and improve their cybersecurity to defend themselves against threats. Not protecting data and other valuable assets of an organization can lead to enormous risks and negative consequences.
6.
Budget constraints

Another challenge of digital transformation is the high costs that come with it. As this is a huge investment, organizations need to carefully plan the budget and come up with a strategy that will address and respond to customers' and organizations' needs.
How to Overcome Challenges and Succeed with Digital Transformation?
According to a digital transformation expert, Dennis Akkerman, three critical factors for every successful digital transformation are:
Strategy
Mindset
Skill and tech
A perfect balance between this Golden Triangle of Digital Transformation and a change in each element is undoubtedly a big step toward a successful digital transformation journey. Organizations need to have a clear strategy and integrate it into all organizations' processes.
1.
Organizational change management

To implement a successful organizational change management, organizations should apply many strategies and actions.

Some of the key elements for managing organizational change are:
Plan – Organizations should carefully analyze their processes, establish priorities, and develop new strategies accordingly. Define the digital transformation goals and align them with the organization's vision and objectives. Organizations should carefully document an established plan which covers all the details of changes like what processes, resources, and phases will it contain, when will it start, who will be responsible, etc.
Start from the top management levels - The upper-management levels are the ones who make the most important decisions, hence they should be the ones deciding about the investments, technologies, processes, roles, and responsibilities.
The organizations' leaders will also be the ones communicating the proposed changes to all employees, those directly and indirectly involved. They should explain why the changes are happening and talk through any presented concerns of employees if any. The top management should also encourage and accept regular feedback.
Create a roadmap – to help employees understand the journey of the organization, a proper roadmap would help them learn where the organization has been and where it is going. A proper roadmap would set a timeline for each stage of the transformation.
Monitor and measure – As the transformation is happening, organizations should evaluate the process continuously and measure the metrics to make sure they are achieving the goals. Additionally, regular monitoring can assist in identifying potential issues and quickly addressing them.
As for many other changes, organizations can get powerful insight from data and analytics for digital transformation as well. They can use these data to overview general and specific process enhancement.
2.
Upskilling and recruitment

Lack of expertise is a very common challenge of digital transformation. Organizations should understand that they need to have skilled employees who can carry on the process, and if needed, they should seriously consider investing in bringing in new employees which have the required expertise, skills, and knowledge.

Adding leaders who are very familiar with digital processes and are fully dedicated to transformation, is another fundamental action toward success. Furthermore, employees need to be trained and recruited to use new tools and get prepared for the new technologies.
3.
Meeting customer's needs

Digital transformation is impacting the customer experiences fundamentally. In order to meet their expectations and needs, which are evolving constantly, organizations should stay up to date with the newest trends and learn continuously about new ways, methods, and technologies developed to enhance their experience.
4.
Work cultural change

The importance of human factor has now been established. As reported by Forbes, the key to the digital success of organizations is starting the change process with humans, not technology. Organizations need to work on a cultural mindset change and the whole organizational culture by raising awareness about the importance of digital transformation and other related elements. A good method to mitigate employee resistance to change is involving the whole team from the beginning and communicating with them frequently and transparently.
5.
Digital transformation security

Digital transformation is a process that carries risks and their identification and management are crucial to a successful and secure change. Organizations should implement security controls and policies, invest in new tools and technologies, implement risk management, and train employees.
6.
Digital transformation budget planning

Besides the investment in time, digital transformation requires a lot of investment in money which needs to be planned carefully. Organizations should create a financial roadmap to facilitate the processes. A budget should be prepared based on overall goals and needs, strategies, priorities, timelines, planned outcomes, return on investments, etc. The budget should be flexible in case any challenges or issues are rising.

Even though the challenges of digital transformation may seem discouraging to some organizations, with the right mindset, the right resources, and the right effort, successful transformation can be achieved and the benefits will justify all the effort.

About the author

Vlerë Hyseni is the Digital Content Officer at PECB. She is in charge of doing research, creating, and developing digital content for a variety of industries. If you have any questions, please do not hesitate to contact her: content@pecb.com
---