Differences between Ethical Hacking and Cybersecurity

Many processes and services have been facilitated by the continual advancement of technology. This has increased internet usage and reliance on technology. There are, however, many cybercriminals who are continually developing sophisticated methods to attack data and undermine cybersecurity. So, the need for protective and preventive measures is undoubtable.
These frequent attacks can often be devastating for organizations. Besides affecting organizations, they can also affect many other people, such as employees and customers. Therefore, the goal is to stop these attacks and find new innovative, advanced, and clever ways to stay one step ahead of cybercriminals.
Fortunately, there are many ways to be protected from different types of data breaches and other security threats. The improvements in the information security sectors, such as the cybersecurity industry and ethical hacking, have made a true difference in data protection and information security.
What is cybersecurity?
Cybersecurity, or cyberspace security, is a broad field that refers to the study and practice of sophisticated methods and programs aimed at protecting network systems, technology, and sensitive information.
Data breaches are costing organizations millions of dollars in damages. According to Tech.Co, globally, the average cost of data breaches is $4.35 million, representing a 2.6% growth over the previous year.
During these attacks, among different targeted data, criminals often attack sensitive data, such as personally identifiable information (PII) and then misuse them for malicious purposes. Such occurrences, besides harming organizations financially, compromise their reputation and customer trust.
As organizations collect and manage a large amount of important data, they are also responsible for their security. For this reason, they should invest in the security of their infrastructure, networks, applications, clouds, and Internet of Things (IoT), as well as implement adequate security management systems and policies.
Moreover, organizations should invest in the education of their employees and raise awareness about the importance of cybersecurity. All these processes, and more, should be estimated and managed by professionals with the proper competency. That is why organizations need to hire cybersecurity experts.
What is ethical hacking?
Ethical hacking is an area of cybersecurity. Even though, for a long time, 'hacking' and 'hackers' has been associated with a negative connotation. However, hacking can be used as an advantage today, helping organizations identify their potential weaknesses.
An authorized hacking, conducted for safety reasons, is called ethical hacking and is done by ethical hackers.
Ethical hackers, also known as white-hat hackers, try to detect organizations' vulnerabilities by legally breaching or attacking their networks and systems. By identifying and fixing these vulnerabilities, ethical hacking contributes to the security improvement of the systems and networks.
The process of ethical hacking
Like many other complex security processes and the complexity of cyberspace itself, the ethical hacking process is no different from them. The main stages of ethical hacking are described below:
Reconnaissance – This is the first phase of ethical hacking and includes a set of processes and techniques used to collect all the available information of networks, systems, and security measures.
Scanning – In the second phase of the process, all the information obtained in the first phase is applied to the target area to identify vulnerabilities.
Gaining access – This is the stage where the hacking actually happens. After analyzing all the information, the ethical hacker attacks and gets into the system or the network. After gaining access, the hacker tries to administrate the information and can make different changes and modifications.
Maintaining access – After gaining access to the system and network, the hackers use various methods to enable them to re-enter the system whenever necessary in the future.
Clearing tracks – In order to avoid detection, the hackers need to cover their tracks so the security systems will not detect or identify the attack.
Reporting – After the stimulated cyber-attack has been successfully finished, ethical hackers make a report with all the detected vulnerabilities and issues.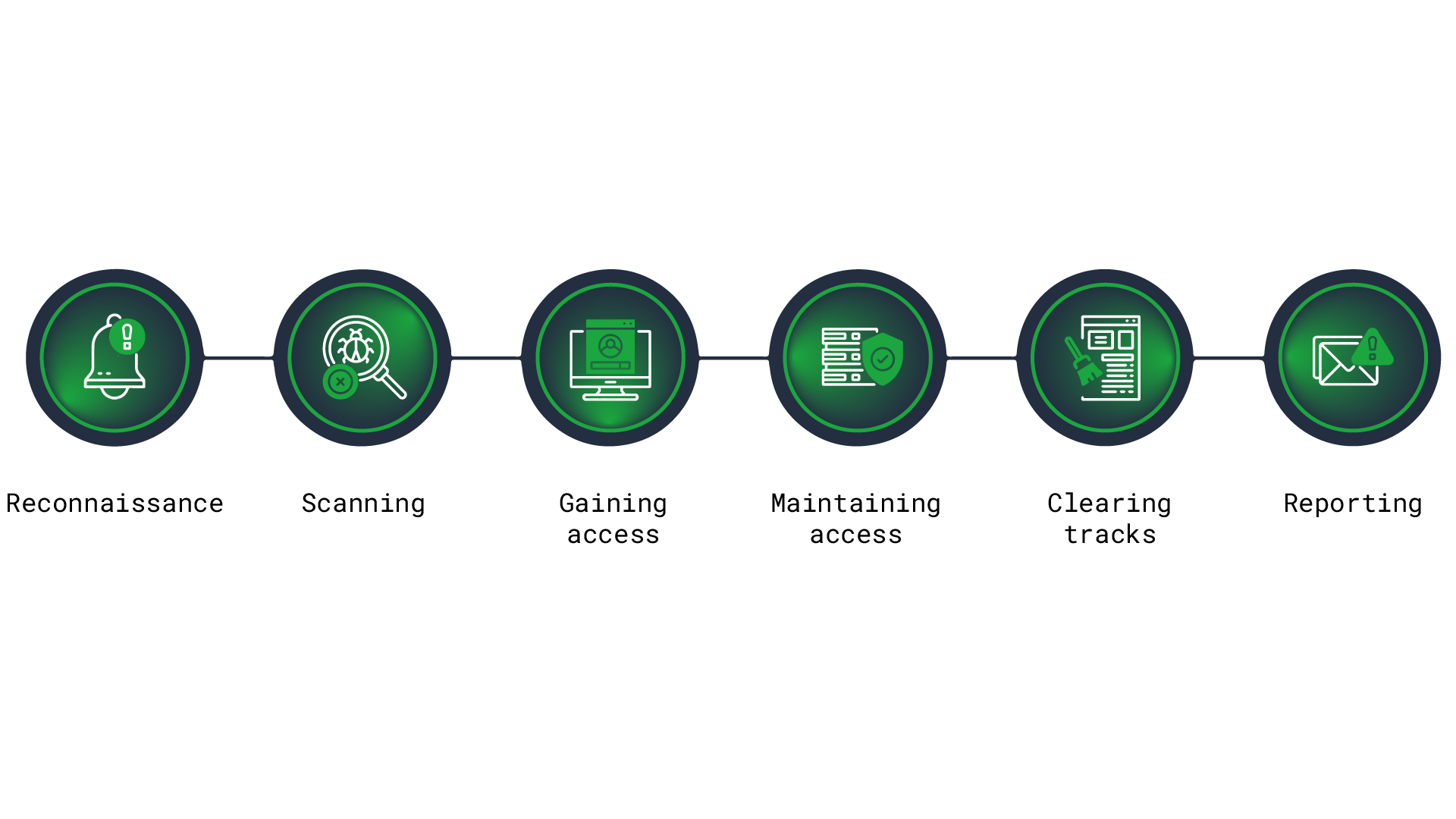 Differences between cybersecurity and ethical hacking
Although cybersecurity and ethical hacking share many similarities, and ethical hacking is actually a form of cybersecurity, they differ in terms of the methods they use.
While cybersecurity experts implement defensive methods of security, in terms of using appropriate security and protection controls, ethical hackers play a more offensive role, meaning that they target security loopholes.
Importance of ethical hacking in cybersecurity
Ethical hacking plays a vital role when it comes to testing the security systems of organizations, hence, its importance in cybersecurity is crucial. As it is ethical hackers' job to think and act like an attacker, by using the attacker's perspective, they can find the potential weaknesses before the criminals try to attack.
Using ethical hacking testing techniques, represents a proactive strategic approach of managing, controlling, and preventing cyber risks. Long-term, this will help organizations avoid becoming victims and facing destructive consequences.
Cybersecurity skills gap
From up to one million open job positions reported in 2013, Cybersecurity Ventures reported that there was a drastic increase up to 3.5 million job openings in 2021 and also how many open positions are predicted in 2025.
One of the main factors why the number of job positions in the cybersecurity industry is this high is the talent shortage or also known as the cybersecurity skills gap. Even though this impacts negatively the overall safety, it is great news for those who want to pursue a career in cybersecurity.
Considering the high demand for cybersecurity experts, there are many great opportunities for everyone who wants to work in this industry, whether pursuing an MBA degree in Cybersecurity or becoming certified in ISO/IEC 27032 Lead Cybersecurity Manager.
Moreover, being a cybersecurity expert, besides having lots of employment opportunities, enables one to pursue well-paid job positions.
ISO/IEC 27032
ISO/IEC 27032 is a globally known standard that provides guidance and instructions for maintaining and improving cybersecurity.
This cybersecurity framework is concerned with the information security, network security, internet security, and cybersecurity infrastructure. In general, if organizations comply with this standard, it will help them ensure that their overall cyberspace, and their interaction with it, will be much safer.
PECB's ISO/IEC 27032 Cybersecurity Trainings
PECB's trainings on ISO/IEC 27032, enable cybersecurity professionals acquire the necessary knowledge, skills, and competence needed to implement a successful cybersecurity program in organizations of different sectors and sizes.
A certification in ISO/IEC 27032, enables cybersecurity experts to protect their organizations data, implement best cybersecurity practices and policies, improve the overall security system of organizations, and recover quickly in any case of incidents.
Becoming an ethical hacker
The important role of ethical hacking in cybersecurity, has made this profession's need rise and become globally trending.
As the complex nature of this profession demands extraordinary talent, to become a successful ethical hacker, there are many skills and techniques one needs to acquire. Fortunately, these can be obtained through training courses and certification programs.
An Ethical Hacker Certificate, will enable experts learn all things needed to conduct a successful ethical hacking process, so they can support their organizations' improvement in security.
About the author
Vlerë Hyseni is the Digital Content Officer at PECB. She is in charge of doing research, creating, and developing digital content for a variety of industries. If you have any questions, please do not hesitate to contact her: content@pecb.com.
---