Business Continuity and Disaster Recovery

Business Continuity and Disaster Recovery (BCDR) planning is a set of strategies, policies, and procedures that help an organization respond, adapt, continue its operations, and recover in case of a disruptive event.
Business continuity is the practice of maintaining normal operations during unfavorable circumstances, while disaster recovery is the process of restoring technology and systems as quickly as possible after an incident, and both are essential components of maintaining the continuity of an organization's operations.
The importance of BCDR increases considering that organizations are exposed to a variety of disruptive events, some of which are impossible to be eliminated. However, implementing a good business continuity and disaster recovery plan can keep an organization running through interruptions of any kind: power outages, IT system failures, natural disasters, supply chain risks, and more.
Why is BCDR Planning Important?
BCDR helps an organization prepare for unforeseen risks to its operations. It specifies all the steps that should be taken in such critical events and outlines what precautions should be taken to reduce risks.
The main purpose of BCDR is to minimize the impact of disruptions on an organization. It is what keeps an organization running smoothly, reduces downtime, and recovers from any disruption. Furthermore, it protects the organizations' staff and assets and makes sure they are able to function under any condition created.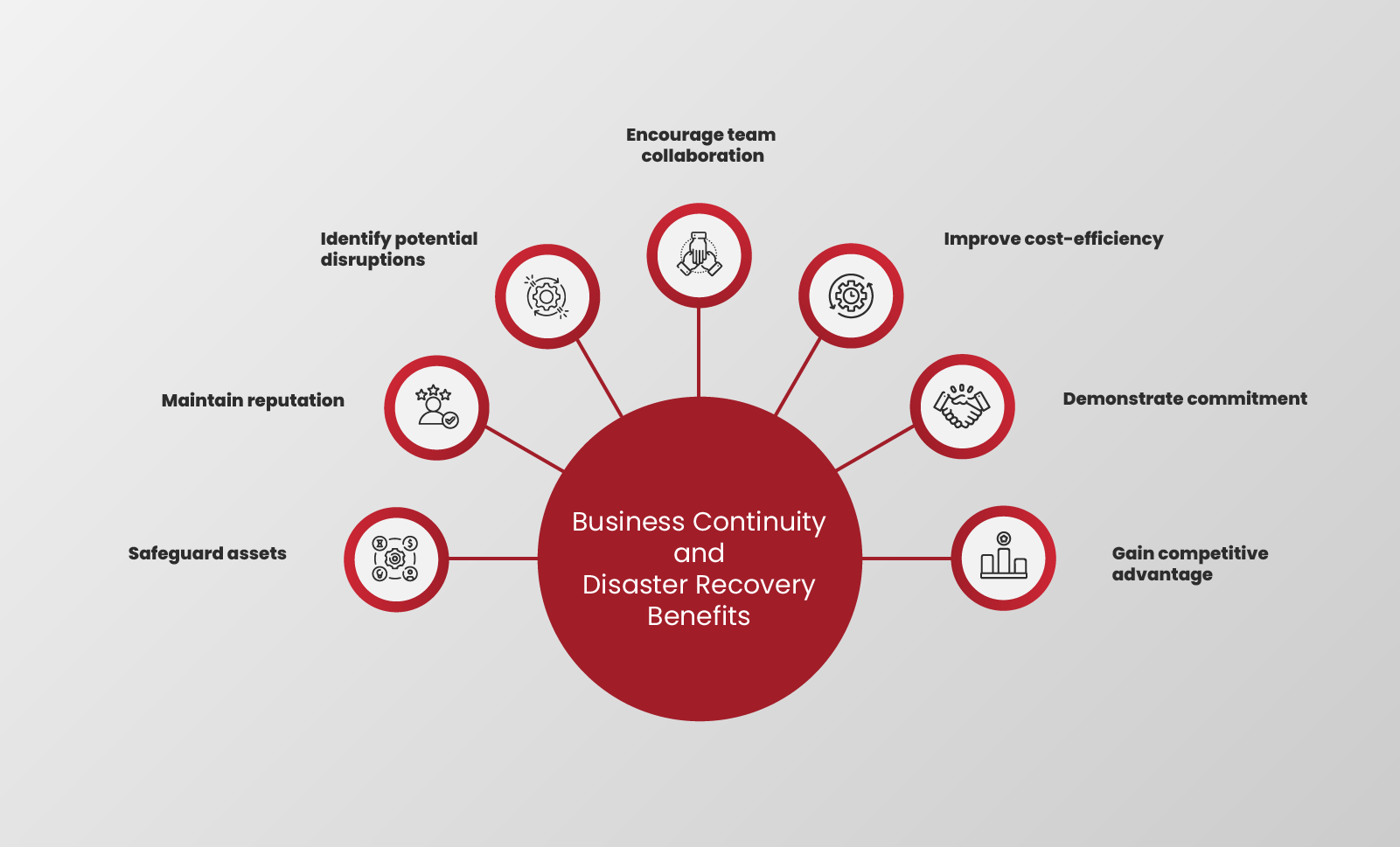 Implementing an effective BCDR helps organizations maintain their reputation, as well as keep their revenue flowing in.
What is the Difference Between Business Continuity and Disaster Recovery?
Although business continuity and disaster recovery are frequently used interchangeably, they differ, especially as each plan is implemented in different periods.
Business continuity refers to an organization's processes and procedures put in place to ensure that its main operations can continue regardless the unfavorable circumstances. Business continuity is the ability to preserve operations or services in the face of a disruptive event.
On the other hand, disaster recovery focuses on the technology part of your business and aims to restore operations and systems as soon as possible after an incident happens. Disaster recovery is frequently considered to be an essential component of business continuity.
Top Threats to an Organization's Continuity
Organizations can face a variety of unexpected events which can be physical or virtual. Some of the top threats to business continuity that every organization should be aware of:
How to Develop Business Continuity and Disaster Recovery Plans?
To create a BCDR plan for your organization, there are four important general steps that need to be followed:
Assess the organization's risks
Design recovery strategies
Develop and implement the plan
Test the plan
Developing a BCDR plan can be broken down into creating two distinguished plans:
Business continuity planning goes beyond the technology component. It involves many short-term and long-term processes, such as the response, recovery, resumption, and maintenance of the entire organization.
There are eight general steps involved in creating a business continuity plan:
Identifying the scope of the plan
Identifying key business areas
Identifying critical functions
Identifying dependencies between various business areas and functions
Determining acceptable downtime for each critical function
Creating a plan to maintain operations
Testing your Business Continuity Plan
Reviewing and improving your Business Continuity Plan
A Disaster Recovery Plan contains detailed instructions on how to respond to unplanned incidents and is more thorough than a business continuity plan.
There are seven steps involved in creating a disaster recovery plan:
Creating a DR response team
Identifying critical operations and setting goals
Evaluating potential disaster scenarios
Creating a communication plan
Establishing roles and responsibilities
Developing a data backup and recovery plan
Testing your plan
Reviewing and updating your plan
Benefits of a Business Continuity Plan
Developing an effective business continuity requires a lot of effort, time, and skills. However, it will result in being very beneficial for your organization. A business continuity plan can help in:
Identifying weaknesses and preventing risks, where possible
Preparing for risks and unforeseen events that you cannot control
Mitigating financial risks
Protecting team members
Maintaining work operations
Coping with crisis
Protecting reputation and brand
Building customer and employee confidence
Cultivating a resilient organizational culture
Benefits of Disaster Recovery Plan
Having a disaster recovery plan can help in:
Being prepared in the event of a disaster
Securing records and hardware
Minimizing recovery time
Minimizing delays
Improving security
Improving last-minute decisions
Increasing employee productivity
Maintaining high-quality services regardless of the event
Reducing the risk of human errors
Increasing confidence of investors and customers
Business Continuity Management and Disaster Recovery Training Courses
Business Continuity Management and Disaster Recovery training courses prepare professionals with the strong knowledge and skills needed to properly implement these systems. They help them understand the principles of BCDR and how to align them with their organization's needs.
ISO 22301 Business Continuity Management System Training Courses
ISO 22301 Business Continuity Management System is an international standard designed to reduce the likelihood of a disruptive incident occurring, protect from, prepare for, respond to, and recover from them. It is very useful because it is applicable to any type of organization, large or small, and within any industry or public sector.
The business continuity management process helps create a clear understanding of how your organization operates, where failure might occur, and provides improvement points for your business processes.
Additionally, by applying business continuity management you can help your organization get a competitive advantage, increase your reputation, and contribute to continual business improvement.
Being certified against ISO 22301 expands your knowledge of how to align a business continuity management system with organizational objectives, and how to manage a team in the implementation of ISO 22301, it will improve your analytical and decision-making skills, and it will equip you with the necessary expertise.
Disaster Recovery Training Courses
Disaster Recovery training courses provide professionals with the needed expertise, knowledge, and skills to implement, maintain, and manage disaster recovery plans. It contains a variety of policies and procedures for protecting IT infrastructure against disruption caused by humans or natural disasters.
With a Disaster Recovery certification, you will strengthen your capabilities to design, run, and conduct a DR project. You with be able to understand the concepts, approaches, methods, strategies, and techniques related to DR. You will be able to help an organization in implementing DR best practices and meeting their business objectives.
While disaster recovery is sometimes considered a component of business continuity, organizations are more protected and prepared when both plans are developed. They are related to each other and each of them plays a crucial role in building a more resilient organization.
About the Author
Vlerë Hyseni is the Digital Content Officer at PECB. She is in charge of doing research, creating, and developing digital content for a variety of industries. If you have any questions, please do not hesitate to contact her at: content@pecb.com
---