Waste Management in Food Industry

Food waste management refers to the systematic approach and the strategies implemented to handle and redirect food and agricultural products for better purposes such as human consumption, animal feed, industrial application, and other environmental benefits.
Understanding Food Waste
As the name implies, food waste is when edible food is thrown away, lost, or left uneaten while it is still valid for consumption. It includes many forms of waste such as food that is intentionally thrown away, expired food, kitchen trimmings, etc.
Significant amounts of food waste are generated in different stages including the primary production, distribution, and sale of food products, and the preparation and serving of food in commercial and domestic environments.
Every year, approximately 1.3 billion tons of food, which accounts for around one-third of global food production, is lost or wasted. Among this high amount, one-third occurs during the production phase. This wasted food is valued at around U.S. $1 trillion.
Developing countries and industrialized areas have high levels of food losses which mainly occur in initial agricultural production. There are many causes of this, including poor agriculture and natural resource management, and very often unfavorable climate conditions. In fact, this is not a problem only for developing countries but for other countries as well.
Environmental, Economic, and Social Implications of Food Waste
Food waste is a global issue and its impact is seen in many environmental, economic, and social aspects:
Environmental Implications:

Resource depletion - Food waste contributes to the unnecessary use of natural resources, such as water, land, and energy. This puts an additional strain on ecosystems and depletes finite resources.
Greenhouse gas emissions - When food waste decomposes in landfills, it releases methane, a potent greenhouse gas that contributes to climate change. The production, transportation, and disposal of wasted food also generate carbon dioxide emissions.
Biodiversity impact - Excessive agricultural practices driven by overproduction to meet the demand for food contribute to habitat destruction, deforestation, and loss of biodiversity.

Economic Implications:

Financial losses - The food industry incurs financial losses due to wasted resources, including labor, water, energy, and production costs. These losses impact businesses, farmers, and consumers.
Increased food prices - Food waste drives up production and distribution costs, which are often passed on to consumers through higher food prices.
Missed economic opportunities - Instead of being wasted, the value of food that is discarded could have been utilized in various ways, such as food donations, animal feed, or processing for other products.

Social Implications:

Food insecurity - Food waste exacerbates global food insecurity, as many people lack access to sufficient and nutritious food. By reducing food waste, more food can be redirected to those in need, addressing hunger and improving food security.
Ethical considerations - Discarding edible food while many people go hungry raises ethical concerns. Addressing food waste is an issue of social justice, ensuring that resources are used efficiently to meet the nutritional needs of all individuals.
Community engagement - Reducing food waste encourages community involvement, fostering collaborations among individuals, businesses, and organizations to tackle the issue collectively.
Factors Contributing to Food Waste
Food waste is mainly caused due to inadequate storage and handling practices, consumer behavior, strict aesthetic standards, and inefficient food distribution systems. Some factors contributing to food waste include:
Overproduction and excess inventory
Insufficient shopping and meal planning
Influence tempting promotions like "buy one, get one free"
Discarded bruised or visually imperfect fruits and vegetables
Quality standards and aesthetic preferences
Inefficient supply chain management
Insufficient food-management skills
Retail practices
Consumer behavior
Lack of infrastructure and logistics
Misaligned supply and demand
Food regulations and liability concerns
Stock management issues for manufacturers and retailers
Lack of awareness and education
Prevention and Reduction Strategies
While it may not be possible to completely eliminate food waste, the food industry can highly reduce it and contribute to a more sustainable and responsible food system. A significant amount of unnecessary loss can be avoided with better management systems throughout the food supply chain.
Waste Management Hierarchy
The waste management hierarchy is an approach that focuses on prioritizing waste management practices with the goal to achieve sustainable waste management. It establishes the order of waste management options, from the most preferred to the least preferred one:
Prevention
Minimization
Reuse
Recycling
Disposal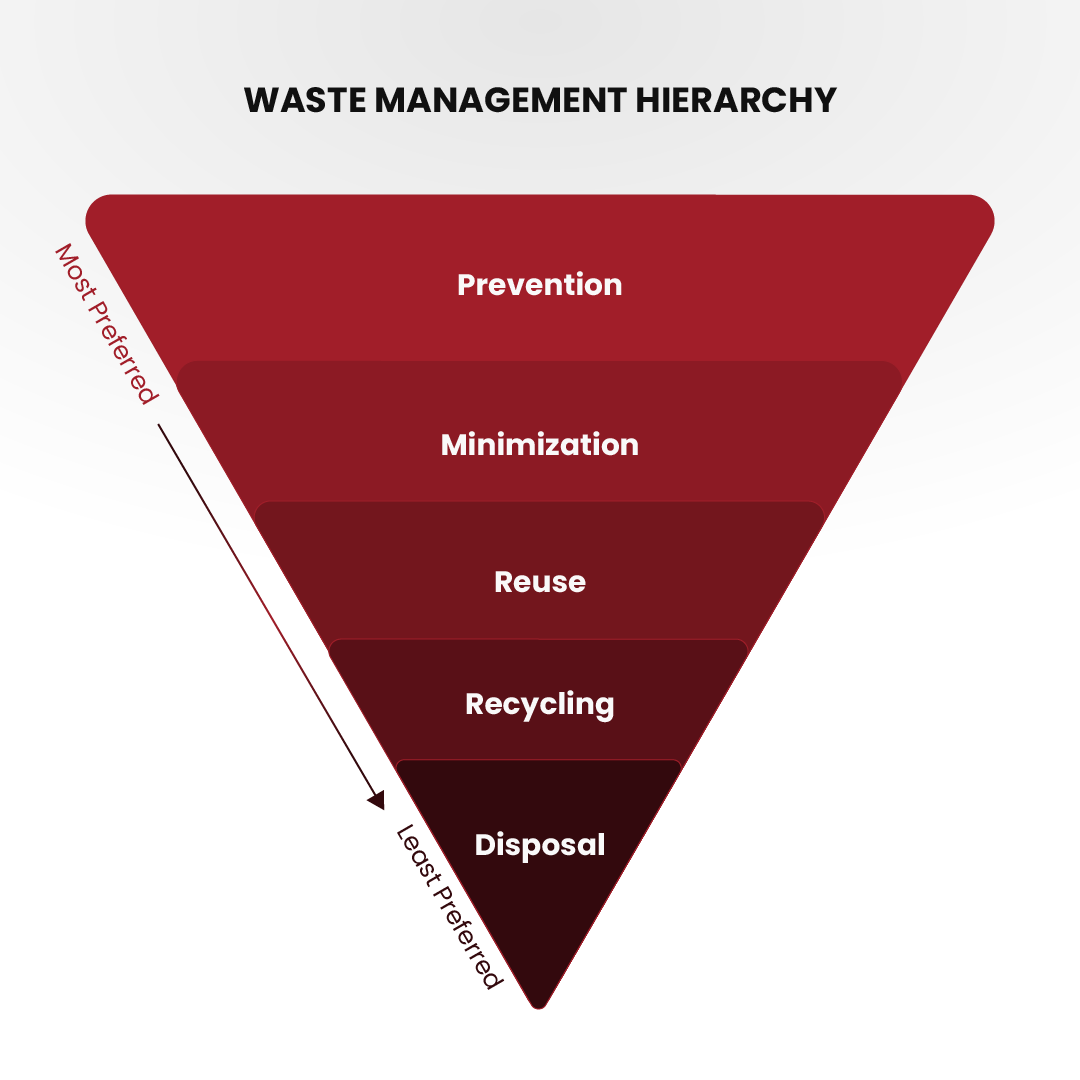 Besides many other actions that can be taken, the simplest most preferable practice, and often the least costly option, is the prevention of waste at the source. A good example regarding food service establishments is reducing portion sizes at restaurants and cafeterias, this will consequently reduce the amount of food waste in this sector. If waste generation cannot be completely prevented, the next step is to minimize the amount of waste produced.
Reusing products or materials that are still in good condition is another preferred option. This can involve repairing, refurbishing, or repurposing items to extend their lifespan and avoid the need for new production.
Recycling involves the processing of waste materials to create new products. It is an important method to recover valuable resources from waste. Various recycling technologies and processes are utilized to convert waste into raw materials for manufacturing.
Lastly, despite the fact that it is the least preferable waste management option, disposal or landfilling is the option used when none of the above methods could be used. Food waste generated from leftover perished produce and spoiled food is the number one material taking up landfill space. Proper landfill management practices are essential to minimize environmental impacts.
Other strategies include:
Improving supply chain efficiency
Implementing sustainable packaging
Educating and empowering consumers
Implementing food recovery programs
Implementing food waste tracking and monitoring systems
Encouraging collaboration and sharing best practices
How Can AI Be Used in Food Waste Management?
AI can play a significant role in food waste management by providing valuable insights, optimizing processes, and enabling more efficient decision-making throughout the food supply chain. Here are some ways AI can be used in food waste management:
Demand forecasting - AI algorithms can analyze historical sales data, weather patterns, events, and other relevant factors to predict future demand for food products. This helps suppliers and retailers optimize their inventory management, reduce overstocking or understocking, and minimize the risk of perishable items going to waste.
Quality control - AI-powered vision systems can assess the quality of fruits, vegetables, and other perishable goods by analyzing images or videos. This helps identify any defects or spoilage early on, allowing for timely intervention to prevent waste. Similarly, AI algorithms can analyze sensor data from temperature and humidity sensors to ensure optimal storage conditions and prevent food spoilage.
Shelf-life prediction - AI models can analyze various parameters such as temperature, humidity, storage conditions, and product characteristics to estimate the remaining shelf-life of perishable items. This enables retailers and suppliers to prioritize the sale of items with shorter shelf life and reduce waste due to expired products.
Supply chain optimization - AI algorithms can enhance transportation routes, scheduling, and logistics, thereby mitigating food waste within the supply chain. By taking into account multiple factors such as distance, traffic conditions, delivery schedules, and storage needs, AI can effectively streamline operations, reduce delays, and ensure the punctual delivery of fresh produce.
Smart inventory management - AI can analyze real-time data from sensors, sales records, and various other sources, in order to optimize the management of inventory. It can provide valuable recommendations regarding the appropriate timing and quantity of orders, as well as the optimal allocation of inventory, thereby minimizing waste and preventing instances of stockouts.
Donation and redistribution - AI platforms can connect food producers, retailers, and food banks or charities to facilitate the efficient redistribution of surplus food. AI algorithms can match supply with demand, considering factors like location, shelf-life, and transportation logistics, to ensure that excess food is redirected to those in need.
Consumer engagement - AI-powered applications can educate and engage consumers in reducing food waste. This can include personalized meal planning, recipe suggestions based on available ingredients, and tips for proper storage and usage of food items. By raising awareness and providing practical solutions, AI can encourage consumers to make more informed choices and minimize waste.
Food Waste Management and ISO Standards
International Organization for Standardization (ISO) has developed numerous standards which help organizations address food waste and promote sustainable practices in the food industry.
One of the key ISO standards related to food waste management is ISO 14001 Environmental Management Systems (EMS).
ISO 14001 provides a framework for organizations to establish and maintain an Environmental Management System (EMS) and it helps them manage their environmental impact, improve sustainability, and comply with environmental regulations.
ISO 22000 is another standard of high importance that focuses on food safety management systems. Even though it does not directly address food waste, implementing ISO 22000 can indirectly contribute to reducing food waste by improving processes and minimizing risks that can lead to waste generation. Furthermore, ISO 22000 can help address other food waste aspects such as traceability, shelf-life management, and supplier control.
In addition, other ISO standards, such as the management ones; ISO 9001 Quality Management System and ISO 50001 Energy Management System, can also help organizations optimize their processes, reduce waste, and enhance their performance.
About the Author
Vlerë Hyseni is the Digital Content Officer at PECB. She is in charge of doing research, creating, and developing digital content for a variety of industries. If you have any questions, please do not hesitate to contact her at: content@pecb.com.
---