Understanding Industry 4.0: The Fourth Industrial Revolution

Industry 4.0, also known as the Fourth Industrial Revolution, is used to conceptualize this ongoing period of time when automation and digitalization have taken over the manufacturing industry. It refers to the integration of many sophisticated technologies that are shaping the way people and industries operate.
Industry 4.0 aims to create smart factories which are modern and digitalized manufacturing facilities. They use interconnected devices, machines, and systems that continually collect and exchange data with each other using sensors, advanced data analytics, and machine learning algorithms.
The goal of the Fourth Industrial Revolution is to develop more agile, responsive, and customer-centered manufacturing industries. With its potential to revolutionize the production of goods and services, it aims to also transform the global economy.
Historical Context of Industry 4.0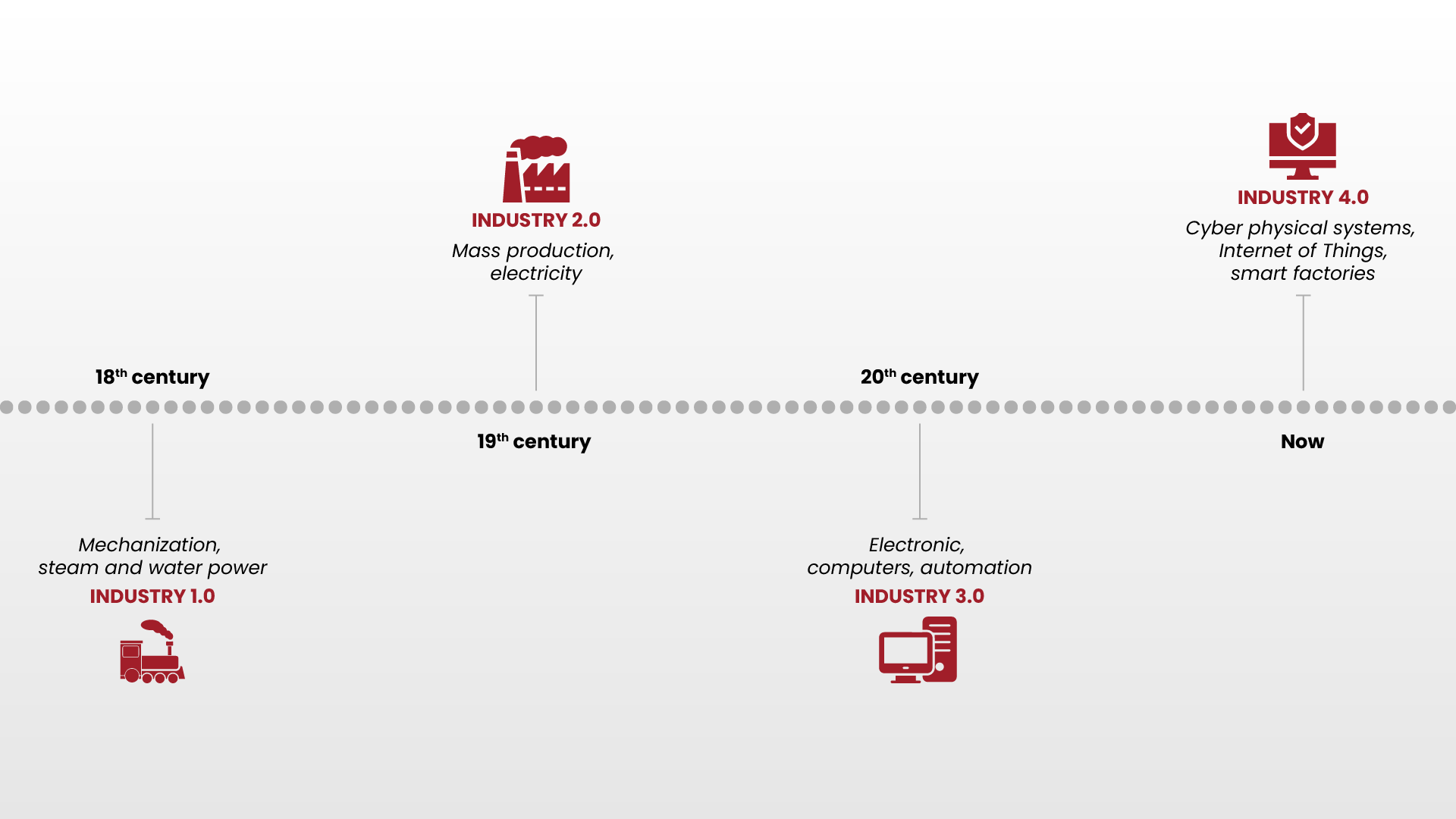 First Industrial Revolution
This period of the First Industrial Revolution began in the late 18th century and continued through the mid-19th century. It was characterized by the transition and mechanization of manufacturing processes through the use of water and steam power in Great Britain and then spreading in Europe and the United States. This led to global economic growth, the development of factories, and increased productivity and efficiency.
Second Industrial Revolution
The Second Industrial Revolution refers to a period emerging in the late 19th century and lasting through the early 20th century. Characterized by the widespread adoption of electric power and assembly lines, the emergence of new industries, and the growth of transportation infrastructure such as railroads and steamships, this period presented a tremendous transformation in peoples' lives.
Third Industrial Revolution
The Third Industrial Revolution, which began in the 1960s and lasted until the end of the 20th century, was marked by the use of new communication systems, information technology, electronics, the internet, and new energy sources. This period was also characterized by the development of computer-controlled machinery and the introduction of computer-aided design and manufacturing (CAD/CAM) systems.
The Third Industrial Revolution profoundly impacted the world, transforming the way people work, communicate, and conduct business. Its influence can still be seen nowadays in the widespread adoption of new transforming digital technologies.
Fourth Industrial Revolution
The Fourth Industrial Revolution or Industry 4.0 began in the early 21st century. It is characterized by digitalization, innovation, and the adoption of advanced technologies which are leading to increased automation, more efficient production processes, and the creation of new products and services.
The Fourth Industrial Revolution is also driving significant changes in society and the economy, including greater connectivity and access to information, the rise of the sharing economy, and new forms of work, such as remote and gig work. However, it also raises important ethical and social issues, such as privacy, cybersecurity, and the impact of automation on employment.
Technologies Driving Industry 4.0
Blockchain
Blockchain is a distributed and decentralized digital ledger that allows and records digital transactions to be done in a secure, transparent, and immutable manner. It impacts Industry 4.0 by contributing to it in several ways:
Supply Chain Management – Blockchain enables real-time tracking of goods and transactions which provides transparency, security, and efficiency in supply chain management.
Decentralized Manufacturing – With blockchain, decentralized manufacturing systems can be created and machines can communicate with one another and automatically execute transactions.
Data Security – Blockchain can provide secure data storage and sharing by using cryptography and ensuring that only authorized parties can access that data. This can help protect sensitive information and reduce the risk of data breaches.
Digital Identity – Identity systems can use blockchain to authenticate individuals and grant access to a variety of services and resources. This can help prevent identity theft and reduce fraud.
Artificial Intelligence
AI has revolutionized Industry 4.0 by making it possible for machines to analyze data and learn from them, make decisions, and take on their own actions that typically require human intelligence. This can lead to enhanced efficiency, productivity, and quality.
For example, AI can analyze sensor data from manufacturing equipment and identify opportunities for process improvements. It can also detect irregularities and predict failures before they even occur. This allows preventative maintenance and reduces downtime.
Virtual Reality
Virtual reality (VR) is a technology that allows users to experience simulated environments. Professionals can use VR to simulate and visualize complex products and processes, to identify potential issues early in the design process, and make more informed decisions.
VR can be used by workers for training and skills development as they can practice performing tasks in hazardous environments without putting themselves or others at risk. Furthermore, VR helps workers from different locations to collaborate with each other in shared virtual environments.
Digital Twin
A digital twin is a virtual copy of a physical product or system used to simulate, monitor, and optimize its performance. In Industry 4.0, digital twins are used to create virtual representations of physical manufacturing systems and to gain real-time insights into the performance of their physical systems.
Robotics
In Industry 4.0, robotics can be used to automate and perform a wide range of tasks. For instance, robots can be used to perform tasks such as welding, painting, and assembly. They work fast, accurately, and tirelessly, making them perfect for repetitive or hazardous jobs. Robots can also collaborate with human workers, creating more flexible and efficient production processes. In addition, robots sort and move packages in warehouses, making the supply chain faster and more reliable.
Cloud Computing
Cloud computing is a critical technology used in Industry 4.0 to store, process, and analyze vast amounts of data from machines, sensors, and other sources in a cost-effective and scalable way.
In Industry 4.0, cloud computing is mostly used for data storage and management, analytics and machine learning, remote monitoring and control, and collaboration and communication.
Internet of Things
The Internet of Things (IoT) is a technology that connects physical objects and devices to the internet and allows them to send and receive data. In Industry 4.0, the IoT is being used to connect machines, sensors, and other devices to create more efficient and integrated manufacturing processes. For example, IoT can be used to track inventory levels, monitor machine performance, etc.
Cybersecurity
As many of its integrated advanced technologies face cyber risks, cybersecurity presents a critical concern for Industry 4.0. The use of interconnected devices and systems in Industry 4.0 creates more attack vectors for cybercriminals to exploit. To address these challenges, Industry 4.0 manufacturers must develop effective cybersecurity strategies. They must also stay up-to-date with the latest cybersecurity threats, best practices, and protocols and have awareness sessions about cybersecurity.
Features of Industry 4.0
Here are the four key features of Industry 4.0:
Vertical Integration – Industry 4.0 can vertically integrate different stages of the production process from raw materials to final products. This connection integration allows better coordination and optimization of processes.
Horizontal Integration – Industry 4.0 can enable greater collaboration and communication between different departments, suppliers, and customers by also being able to integrate different processes horizontally.
End-to-End Engineering – Besides focusing only on how a product is made, Industry 4.0 emphasizes end-to-end engineering and focuses also on how it will be used and thrown away.
Rapid Growth in Manufacturing – Industry 4.0 is characterized by the rapid growth of manufacturing which is enabled due to the use of many different technologies.
Overall, Industry 4.0 has brought significant improvements to the manufacturing industry. Despite concerns about the potential impact of new technologies, with the right approach, the Fourth Industrial Revolution can continue to drive progress and innovation while also fostering a more equitable and inclusive society.
About the Author
Vlerë Hyseni is the Digital Content Officer at PECB. She is in charge of doing research, creating, and developing digital content for a variety of industries. If you have any questions, please do not hesitate to contact her at: content@pecb.com.
---