ISO 14001 Certification - Guidance to Protecting the Environment

Organizations of different industries are implementing laws, regulations, and environmental management systems, such as ISO 14001. This is due to their impact on the environment and the drastic climate changes during these last years.
Throughout time, the earth has gone through many environmental changes which have been highly impacted by human processes, such as industrialization, deforestation, overpopulation, overconsumption, emission of carbon dioxide, etc.
Many organizations produce a lot of waste which can be very harmful to the environment. However, nowadays, organizations are becoming more aware of environmental issues and are acting more quickly to move beyond environmental compliance and reduce their negative impact on it.
Industrialization and its impact on the environment
The Industrial Revolution marked a major turning point for the economic growth and development of society. This process began in the 18th century in Great Britain, and increased tremendously, bringing wealth and power to several other countries.
Replacing an agrarian, handicraft economy with machinery manufacturing has changed production capabilities and labor patterns. As a result of mass production, the use of energy increased and led to the depletion of natural resources, such as deforestation. This inevitably brought carbon emissions, pollution of the water, soil, and of course, global warming.
The global economy has learned its lesson and is aware that the economic impact of global warming is very high. According to Deloitte Center for Sustainable Progress, over the next 50 years, climate change can cost the global economy US $178 trillion. All businesses have a legal and moral obligation, to follow all environmental laws.
What is ISO 14001 Environmental Management?
ISO 14001 Environmental Management is the world's most recognized framework for environmental management systems. It specifies requirements for designing and implementing an effective environmental management system (EMS).
ISO 14001 provides organizations with a framework and guidelines related to environmental systems. It is suitable for different organizations and allows them to tailor the EMS according to their objective, needs, and other characteristics.
ISO 14001 is closely related to other management systems, such as ISO 9001, and operates through the Plan-Do-Check-Act (PDCA) cycle:
Plan – Establish environmental goals and processes according to the organization's environmental policy
Do – Implement the planned processes and activities
Check – Continually monitor, measure, and evaluate the processes
Act – Improve the processes as needed
Why Should You Implement ISO 14001?
Organizations implement ISO 14001 environmental management system in order to have better control of the environmental impacts and performance caused by the environmental aspects of various activities, services, and products.
Governments around the world encourage the implementation of ISO 14001 and it has been adopted as a national standard by many countries. It is part of the ISO 14000 family of standards that are designed to be mutually supportive but also used independently.
The steps needed to be completed before implementing ISO 14001 are the following:
Establishing an environmental policy that reveals its responsibilities
Identifying current and potential environmental impacts
Determining the environmental risks associated with the organization's activities and processes
Establishing objectives and programs to achieve the required targets
Ensuring compliance with regulatory requirements
Improving environmental performance continuously by reducing pollution and waste
Initiating actions to prevent or at least mitigate the environmental risks
Another important matter is the training and awareness of employees' responsibilities at all levels. Employees should be trained accordingly to their roles in the company. The environmental team should be aware of energy efficiency and waste management in order to create opportunities for improvement and cost savings.
Alternative materials and production processes play a major role in environmental practices. The higher the understanding of what EMS offers and why it is crucial for the company to implement it, the easier it will be to apply.
ISO 14001 EMS Framework
ISO 14001 EMS framework contains the following main clauses: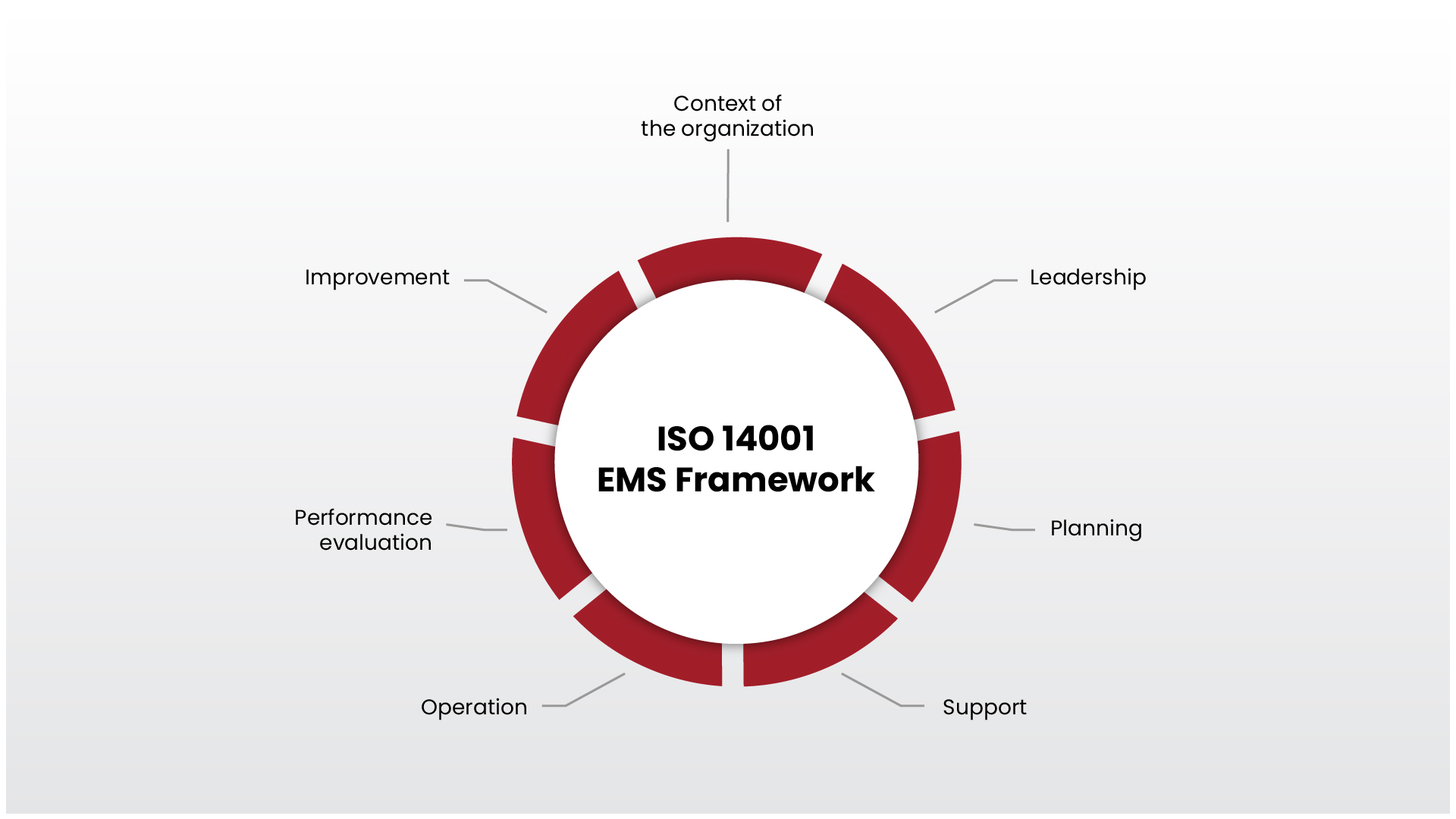 ISO 14001:2015 Clause 4 Context of the organization
This clause requires defining and understanding the context of the organization including all the external and internal factors that are relevant, are affected by, or have the capability to impact the organization. The context of the organization also considers the needs and expectations of the interested parties and the scope of the environmental management system.
ISO 14001:2015 Clause 5 Leadership
The leadership clause determines clear expectations for top management and requires them to understand and learn how to prevent pollution and protect the environment based on their environmental policy. Furthermore, ISO 14001 states that the management is accountable for the effectiveness of the EMS.
ISO 14001:2015 Clause 6 Planning
Organizations are required to identify and plan the organization's elements that could potentially interact with the environment. For example, organizations should identify the impact of their activities, products, and services on the environment. They should establish environmental goals, targets, and programs to achieve them. Moreover, organizations should carefully consider all the risks and opportunities relevant to the EMS and their operation.
ISO 14001:2015 Clause 7 Support
The support clause contains five sub-clauses: resources, competence, awareness, communication, and documented information. All these show the importance of many factors, such as determining the needed competence of people, their appropriate training and qualification, etc.
ISO 14001:2015 Clause 8 Operation
This requirement is concerned with the execution of the plans and processes that aim for the implementation of an EMS. It requires organizations to follow their environmental policy and to achieve their objectives by controlling specific operations and activities.
ISO 14001:2015 Clause 9 Performance evaluation
This clause ensures that an organization's EMS is effective by measuring, evaluating, and helping it to continually improve. It evaluates the overall effectiveness, the fulfillment of the minimal requirements of the standard, the performance of the processes, etc.
ISO 14001:2015 Clause 10 Improvement
All organizations implementing an EMS should identify improvement opportunities that will affect its implementation effectiveness in the future. Improvements can be done on a continual basis or in other cases when a situation requires doing so.
ISO 14001 Environmental Management Training Course
Getting an ISO 14001 certification will help you and your organization to:
Improve career opportunities
Reduce waste and the environmental negative impact
Fulfill legal obligations
Safeguard the environment as part of social responsibility
Get new clients and increase market share
Create a corporate image and credibility
Increase stakeholder (interested parties) confidence
Access new markets
Lower operational costs
Save costs and much more
PECB's ISO 14001 Environmental Management training course will enable you to gain and develop the needed skills, knowledge, and competence to help an organization achieve its EMS objectives.
About the Author
Vlerë Hyseni is the Digital Content Officer at PECB. She is in charge of doing research, creating, and developing digital content for a variety of industries. If you have any questions, please do not hesitate to contact her at: content@pecb.com
Contributors
Suzana Ajeti – PECB
Stephan Lim
---