Federal Trade Commission Slaps Facebook with $5 BILLION Fine

What does this mean for you and your privacy?
Five billion is a big number, but Facebook is a big company!
The Federal Trade Commission (FTC) announced a $5 billion fine against Facebook and has imposed new privacy rules for violating an eight-year-old privacy agreement. Various pundits have called the fine a 'pocket change' for the size of the Silicon Valley giant. But the FTC's fine and the privacy rules imposed are not the problem. According to various sources, the real problem is that the United States lacks a stable and solid federal data protection privacy law, which would minimize these types of privacy violations.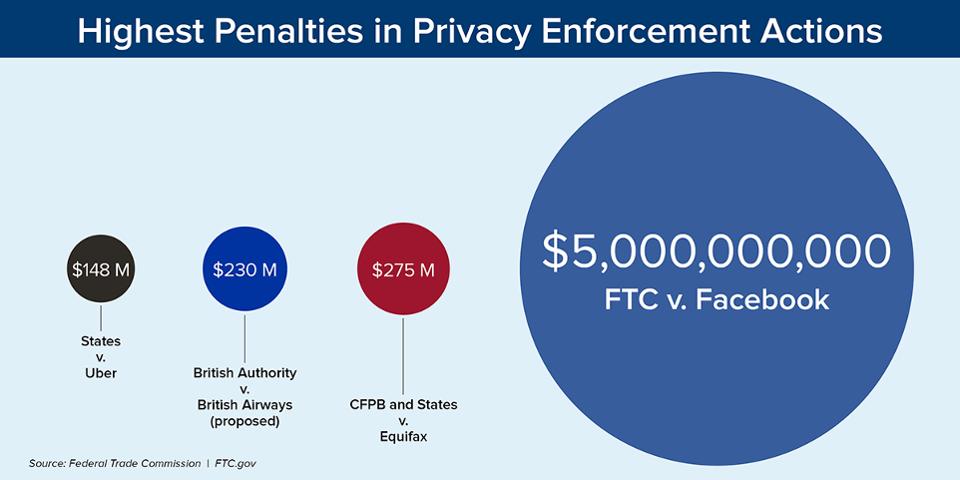 Facebook will pay more than 200 times the size of the biggest fine that the Federal Trade Commission ever imposed for a tech company. Facebook declared $55 billion of revenue only last year, which means the fine only affects 9% of their 2018 total revenue.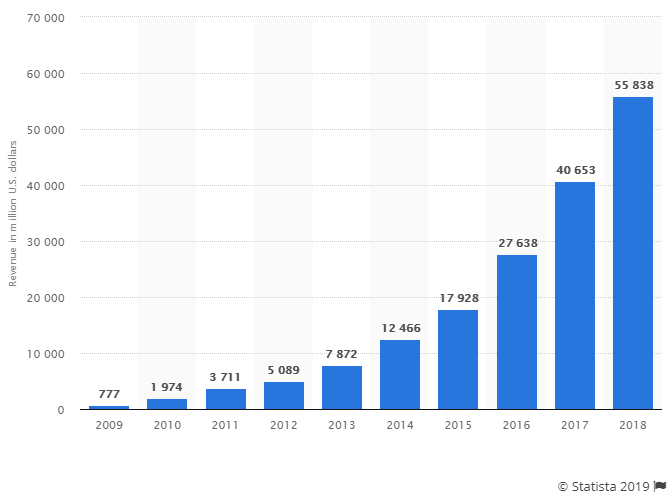 Mark Zuckerberg, Facebook's CEO, who owns most of Facebook's shares, made money the day that the news regarding the fine broke. But is this fine enough to stop the violation of privacy rights? And if a $5 billion fine does not stop Facebook, what will?
How did the privacy violation occur?
The Democratic Commissioner, Rohit Chopra stated that "Facebook flagrantly violated the FTC's 2012 order by deceiving its users and allowing pay-for-play data harvesting by developers. ... The settlement imposes no meaningful changes to the company's structure or financial incentives, which led to these violations,"
Also, the Democratic commissioner, Rebecca Kelly Slaughter pointed out that "Even though this settlement is historic, in order to support it I would have to be confident that its combined terms would effectively deter Facebook from engaging in future law violations and send the message that order violations are not worth the risk. I do not believe that is the case,"
On the other hand, Mark Zuckerberg said in a statement on Wednesday that Facebook will "set a completely new standard for [the] industry."
Further, he added that "Going forward, when we ship a new feature that uses data or modifies an existing feature to use data in new ways, we'll have to document any risks and the steps we're taking to mitigate them,"
According to the Federal Trade Commission Chairman Joe Simons, in line with the new rules imposed by FTC, Zuckerberg will have to guarantee that the tech giant is following their privacy terms and that he could even be held liable for criminal penalties if there are any similar data violations in the near future.
What does this fine mean for Facebook and for you?
Facebook will have to document how they will manage personal data every time they develop a new product and also carefully monitor what third parties do with their users' information and avoid cases similar to Cambridge Analytica. Also, the government will have the right to access an outside organization's audits of Facebook's practices, including the company's own certifications – and all of them have to be officially signed by Mark Zuckerberg.
According to the Washington Post, the newly imposed regulations on Facebook's data processing are narrowed down only to malpractices from the past, which include the gathering of phone numbers or deceitfully applying facial recognition technology and use it for advertising. However, restrictions regarding the specific usage of the information which does not coincide with the initial intent of collecting that same information are not part of the new agreement.
Final Thoughts
American privacy laws are quite fragile in comparison with a number of other countries. According to the Electronic Privacy Information Center (EPIC), the US is a developed and industrialized country which does not have an official government agency that is solely dedicated to protecting its citizen's personal data. Considering the continual data breaches and data mismanagement from some of the biggest technology companies, there is an urgent need for comprehensive federal privacy legislation.
About the author
Ardian Berisha is a Senior Market Intelligence and Webinar Manager at PECB. He is in charge of conducting market research while developing and providing information related to ISO standards. If you have any questions, please do not hesitate to contact him: marketing.ism@pecb.com.
---