5 Reasons Why Management System for Records is Important

In this data-driven era, organizations face the constant challenge of handling large amounts of information. From important financial records to sensitive personal data, it is vital to be able to efficiently manage and organize these records.
However, despite its importance, many organizations still encounter difficulties keeping up with the increasing amount of records, leading to the need and importance of implementing a Management System for Records (MSR).
MSR is a specific management system fit for the purpose of directing and controlling an organization's records system. It can be implemented by every type of organization regardless of its size, sector, and industry. One of the main purposes of implementing an MSR is to systematically manage information.
These records can be used to maintain information about business activities, as well as support current business decisions. Therefore, a management system for records (MSR) can be considered a critical component to ensure accountability to present and future interested parties.
ISO 30301 is compliant with Annex SL, which defines the structure of management systems standards in terms of identical clause sequence, common text, and terminology. As organizations increasingly have to manage several compliance frameworks simultaneously, it is recommended to implement an integrated management system. MSR integration with other management systems can help organizations manage records properly, knowing that most of these systems rely heavily on documentation.
Why Organizations Should Implement a Management System for Records?
The five key reasons highlighting the importance of an MSR are: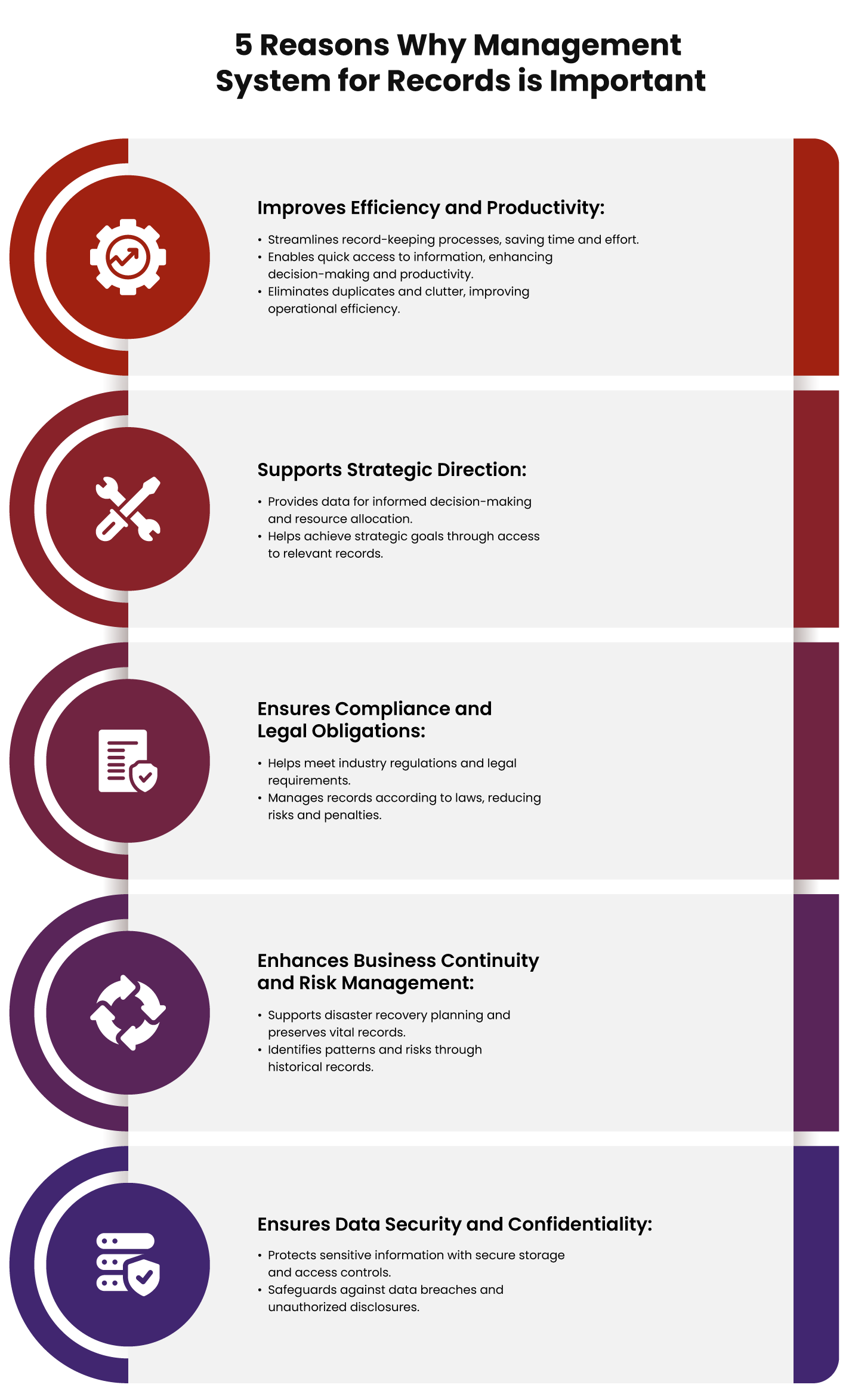 1.
Improves Operational Efficiency and Productivity

Similar to other company assets, proper records management allows organizations to make use of their value through faster access and retrieval of information. Records management can save organizations money (storage, server costs), support decision-making, and improve customer service due to ease of accessing information.
2.
Supports Strategic Direction

A proper records system supports the organization's development because the requirements of MSR implementation must be aligned with the strategic direction of the business. The organization's mission, vision, values, and objectives must be continuously communicated to relevant interested parties to ensure that they are understood by them.

This organizational culture will enhance management systems and administrative processes, as well as improve efficacy and efficiency. Additionally, the MSR implementation will direct and support continual improvement throughout the organization.
3.
Regulatory Compliance and Legal Obligations

A solid records management system demonstrates legal and regulatory compliance, as MSR can be used to comply with different applicable laws and regulations. Organizations must have evidence of their activities with regard to external and internal environments, such as economic, political, social, and technological aspects.

In addition, records are a reliable and verifiable source for accountability purposes. The MSR certification proves and guarantees conformity to the standard, to industry standards, and national and regional laws.
4.
Business Continuity and Risk Management

Management systems for records can also benefit organizations in terms of risk reduction. Proper management of records can be helpful in terms of evidence of the organization's activities and decisions.

The relationship between records and risks can be seen in two ways, risks deriving from bad records management, and records used as a tool to mitigate risks. The former means that organizations can face business risks associated with records management, such as compliance concerns, disaster recovery issues, public relations crises, discrete information breaches, and security threats. Whereas, the latter is related to having a records management system in place to prevent the above-mentioned issues from happening.

Through strategic planning and risk assessment, organizations can develop processes and protocols to safeguard records and mitigate these risks. This includes implementing backup and recovery systems, establishing business continuity and disaster recovery plans, as well as implementing security measures to protect vital records.
5.
Data Security and Confidentiality

Management Systems for Records (MSR) are crucial for ensuring data security and confidentiality within organizations. By implementing MSR practices, organizations can establish protocols for safeguarding sensitive information, protecting it from unauthorized access or breaches.

An MSR also guides the proper handling and disposal of records, reducing the risk of unintended data exposure. Compliance with data protection regulations and industry standards is facilitated through an MSR, fostering trust by ensuring the implementation of proper data handling practices, consent management, retention policies, and privacy controls.
How to Implement a Management Systems Record?
Implementing a records management system requires careful planning, coordination, and attention to the following key steps:
Assess your organization's needs - Conduct a thorough assessment of your organization's current record-keeping practices, challenges, and requirements. Identify the types of records you need to manage, relevant regulations, compliance obligations, and any specific industry requirements.
Set clear objectives and goals - Define your objectives and goals for implementing a records management system. These may include improving efficiency, ensuring compliance, enhancing data security, or streamlining processes.
Choose the right records management solution - Research and select a records management software or solution that aligns with your organization's requirements. Look for features such as document storage, search capabilities, metadata management, access controls, and compliance functionalities.
Develop policies and procedures - Establish records management policies and procedures that outline guidelines for record creation, retention, access, disposal, and security. These policies should be based on regulatory requirements and industry best practices.
Design a file plan and classification structure - Create a file plan and classification structure that organizes records in a logical and consistent manner. Determine the categories, folders, and metadata fields required for effective record management.
Implement metadata and tagging - Assign appropriate metadata and tags to records to enhance searchability and facilitate efficient retrieval. Consistent and meaningful metadata ensure that records can be easily identified, classified, and located when needed.
Migration and integration - If you are transitioning from a manual or legacy system, plan and execute the migration of existing records into the new system. Develop strategies for data cleansing, validation, and mapping to ensure a smooth transition. Integrate the records management system with other relevant systems, such as document management, collaboration, or enterprise resource planning platforms, for seamless workflows.
Training and change management - Provide comprehensive training to employees on the use of the records management system, including proper record creation, retrieval, and compliance practices. Communicate the benefits and importance of the system, address any concerns, and actively manage change within the organization to ensure widespread adoption.
Monitor, evaluate, and continuously improve - Regularly monitor the performance and effectiveness of the records management system. Measure key performance indicators (KPIs) such as compliance rates, search efficiency, user satisfaction, and resource utilization. Gather feedback from users and stakeholders to identify areas for improvement and make necessary adjustments to optimize the system's functionality.
The Impact of Digital Transformation on Management Systems for Records (MSR)
As in many other spheres, digital transformation has also impacted MSR becoming a very crucial aspect of it for many reasons. Some of the key ways digital transformation impacts MSR are:
Transition to digital records - Moving from traditional paper-based record-keeping to digital formats improves accessibility, efficiency, and collaboration among stakeholders.
Automation of record-keeping processes - Automating tasks such as record classification, retention, and disposal streamlines workflows and reduces manual efforts.
Integration with digital systems - Integrating MSR with other digital systems enhances data flow, interoperability, and connectivity within the organization.
Enhanced data analytics and insights - Leveraging digital records allows for advanced data analysis, providing valuable insights and better-informed decision-making.
Improved security and compliance - Digital transformation enhances data security measures and facilitates compliance with data protection regulations, reducing the risk of breaches and ensuring adherence to legal requirements.
Enhanced data security and confidentiality - Digital transformation enhances data security measures and facilitates compliance with data protection regulations, reducing the risk of breaches and ensuring adherence to legal requirements.
Preservation and long-term access - Digital transformation enables the preservation and long-term accessibility of records through proper storage, backup, and archiving techniques, ensuring their availability for future reference.
Some of the main technologies which have contributed to the digital transformation of the MSR are:
Big data and analytics
Artificial intelligence and machine learning
Mobile and remote access
In conclusion, it is evident that efficient management of large amounts of information is crucial, and adopting a comprehensive and adaptable approach to records management is what best addresses this need. MSR provides a specific framework to control and direct an organization's records system, regardless of its size or industry. It ensures compliance with legal and regulatory requirements, improves operational efficiency, supports strategic direction, manages risks, and enhances data security and confidentiality. To successfully navigate the digital age, organizations should adopt a comprehensive and adaptable approach to records management.
About the Author
Vlerë Hyseni is the Digital Content Officer at PECB. She is in charge of doing research, creating, and developing digital content for a variety of industries. If you have any questions, please do not hesitate to contact her at: content@pecb.com.
---