Waste Management in Food Industry

Waste Management in Food Industry
Large amounts of food is being wasted throughout the food supply chain; in primary production, during distribution and sale of food products, the preparation and serving of food in commercial and domestic environments.
According to the Food and Agriculture Organization (FAO), annually one third of the food produced in the world for human consumption gets lost or wasted. Interestingly, in developed countries food is mostly being wasted at the consumption stage, which means it is being discarded even if it is still suitable for human consumption. In this case, consumer behavior plays an important role in prevention of food waste, which can be accomplished by raising awareness among individuals, households, and consumers in general.
On the other hand, in developing countries and industrialized areas food losses mainly occur in initial agricultural production. Primarily this is caused due to poor agriculture and natural resource management, and very often due to unfavorable climatic conditions. In fact, this is not a problem of only developing countries. Even in the United States, a good portion of food is thrown away uneaten - from farm to landfills. This impacts the environment, society and economy.
Social initiatives, awareness campaigns and stringent of legal requirements have thrust the consumers, as well as food industry, to take steps towards reduction of waste. Although for some sectors food waste is inevitable; yet, a significant amount of unnecessary loss can be avoided with better management systems throughout the food supply chain.
The internationally accepted approach of waste management hierarchy helps food establishments to prioritize waste management practices in order to handle waste in a sustainable manner. It sets out the preferred order of waste management options, from the most preferred to the least one. Prevention of waste is the most preferred and often the least costly option.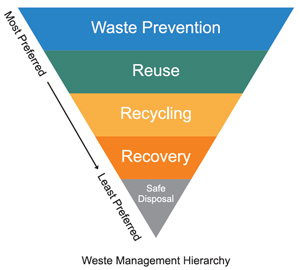 Food service sector is one of the most significant areas of food waste. Besides many other actions that can be taken, the simplest and the most preferable practice is prevention of waste at the source. A good example regarding food service establishments is reducing portion sizes at restaurants and cafeterias this will consequently reduce the amount of food wastes in this sector.
Despite the fact that landfilling is the least preferable waste management option, yet food waste generated from leftovers, perished produce and spoiled food is the number one material taking up landfill space.
Food waste is much more costly that is obviously seen, and its impact is much more serious. When food is wasted all of the natural resources that were expended in the supply chain are also lost, including the use of land, water and energy. Except for economic impact, the impact that food waste have on environment and society is bitterer. Broad-scale effects of food wastage contribute to global environmental problems such as pollution and climate change.
International Organization for Standardization (ISO) has developed a numerous number of international standards which help organizations to improve their management systems and optimize their processes related to quality (ISO 9001), environment (ISO 14001), energy (ISO 50001), and so on.
Professional Evaluation and Certification Board (PECB) is a certification body for persons on a wide range of professional standards. Among others it also offers ISO 14001 training and certification services for professionals wanting to gain a comprehensive knowledge of the main processes of an EMS; project managers or consultants wanting to prepare and to support an organization in the implementation of an EMS; auditors wanting to perform and lead EMS certification audits, and staff involved in the implementation of the ISO 14001 standard.
ISO 14001 and Environment Trainings offered by PECB:
---
Narta Voca is the Health, Safety and Environment (HSE) Product Manager at PECB. She is in charge of developing and maintaining training courses related to HSE. If you have any questions, please do not hesitate to contact her at training@pecb.com.
For further information, please visit PECB ISO 14001 Training Courses.
---