The Main Benefits of ISO/IEC 27001 Certification

Organizations globally recognize the need to protect their sensitive data from the continually evolving challenges caused by cyber threats and data breaches.
One of the most effective ways of protecting data and showing a commitment to security is through the ISO/IEC 27001 certification and compliance which offers many benefits for both individuals and organizations.
What Is ISO/IEC 27001?
ISO/IEC 27001, the international standard for Information Security Management Systems (ISMS) offers an important framework for organizations that are dedicated to protecting their sensitive information assets and data. It provides organizations with requirements to establish, implement, maintain, and continually improve their ISMS.
The ISO/IEC 27001 standard can help organizations ensure data confidentiality, integrity, and availability by demonstrating their commitment to data security. It is a crucial part of cybersecurity and data protection, as it can be used to identify risks and implement security controls.
What Are the Benefits of the ISO/IEC 27001 Certification for Individuals?
According to The ISO Survey of Management System Standard Certifications, the total number of valid ISO/IEC 27001 certificates worldwide in 2022 has reached 71,549, reflecting the global recognition of its importance.
The main benefits of the ISO/IEC 27001 certification are:
Enhanced Knowledge and Skills - Certifications in ISO/IEC 27001 give professionals a deep understanding of security principles, risk management, and compliance. As a result, they can face different challenges more effectively.
Career Advancement - Achieving ISO/IEC 27001 certification significantly enhances a professional's marketability and career prospects. It distinguishes them as experts in information security, setting them apart from their peers. This certification opens doors to higher-level positions, leadership roles, and exciting career opportunities.
Higher Earning Potential - Certified professionals often command higher salaries in the information security field. The specialized knowledge and skills gained through this certification are highly valued by employers. Organizations recognize the added value certified professionals bring, making them willing to invest in their expertise.
Global Recognition - ISO/IEC 27001 certification is globally recognized which offers professionals the opportunity to work on diverse projects with organizations worldwide. It enriches their professional experience by exposing them to different cultures, business practices, and cybersecurity challenges, making their careers more dynamic and globally relevant.
Demonstrated Commitment to Security - ISO/IEC 27001 certification signifies a professional's dedication to information security. It demonstrates their commitment to upholding the highest standards of data protection and confidentiality. This commitment is highly valued by organizations looking to strengthen their security posture and protect sensitive information.
Improved Problem-Solving Skills - The certification process often involves real-world scenarios and case studies. Such methods help professionals learn to analyze and solve complex security problems effectively and develop skills invaluable for future leadership positions.
Network Expansion - Pursuing ISO/IEC 27001 certification exposes professionals to a network of like-minded individuals and experts in the field. This network can be a valuable resource for knowledge sharing, collaboration, and staying updated on industry trends and best practices.
Competitive Advantage - In a competitive job market, ISO/IEC 27001 certification sets professionals apart from non-certified candidates. It serves as a reliable indicator of their expertise and dedication to information security.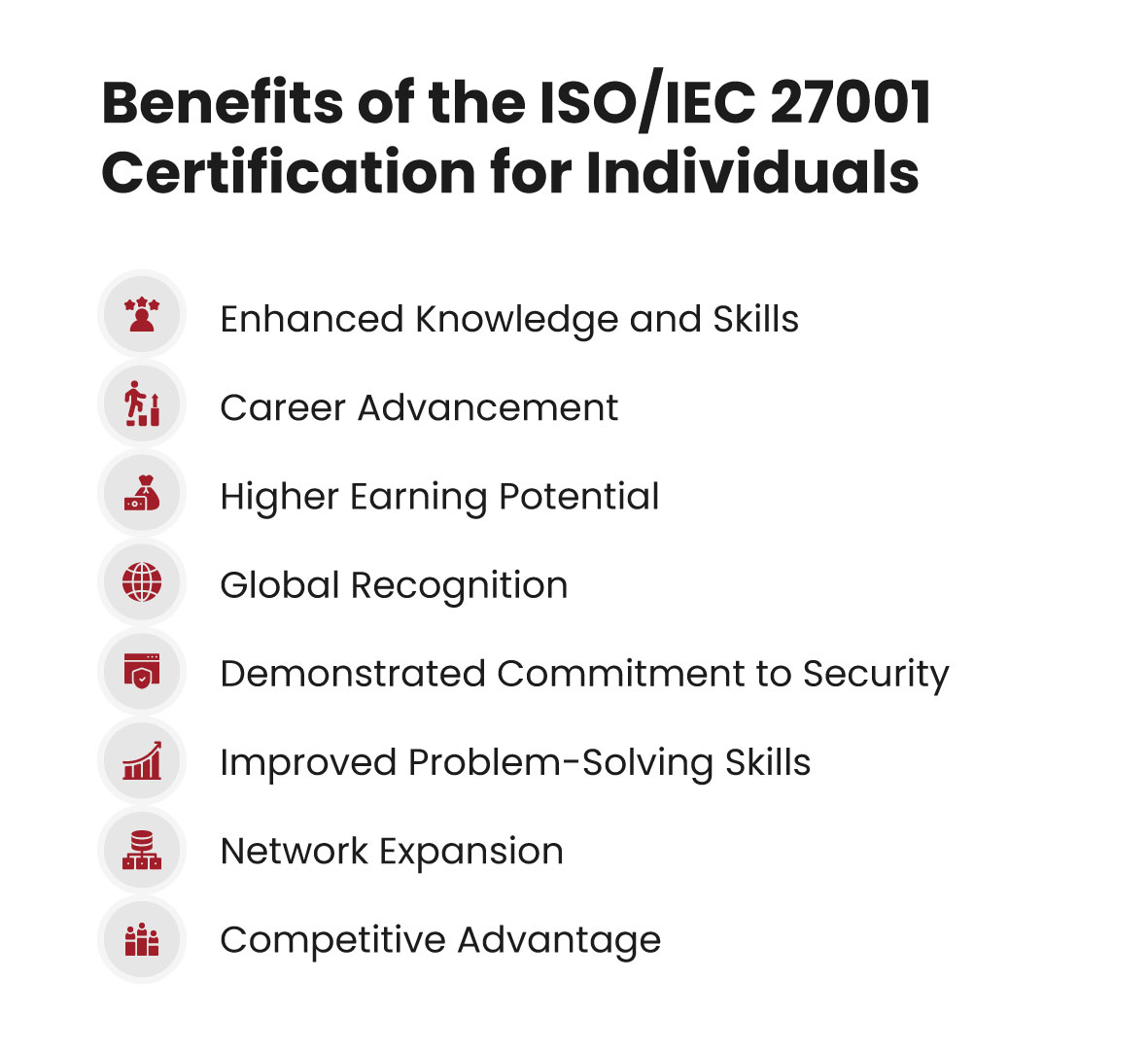 What Are the Benefits of the ISO/IEC 27001 Certification for Organizations?
While professionals benefit immensely from ISO/IEC 27001 certification, organizations that employ certified professionals also experience a multitude of advantages.
Improved Information Security - A certified professional understands security best practices and can provide organizations with adequate measures to protect sensitive information.
Risk Mitigation - ISO/IEC 27001-certified professionals excel in risk management. They can identify vulnerabilities, assess risks, and implement strategies to mitigate them, reducing the organization's exposure to potential threats.
Regulatory Compliance - Information security regulations are continually evolving. ISO/IEC 27001-certified professionals stay current with these changes, ensuring that the organization complies with relevant laws and regulations.
Enhanced Reputation - Having certified professionals on staff enhances the organization's reputation. Clients and partners gain confidence in the organization's commitment to data security, leading to better relationships and more business opportunities.
Cost Savings - While there is an initial investment in certification, the long-term benefits far outweigh the costs. Effective security measures reduce the likelihood of data breaches and associated costs, including legal fees, fines, and reputation damage.
Competitive Advantage - ISO/IEC 27001 certification sets an organization apart from its competitors. It becomes a valuable selling point, attracting clients who prioritize data security.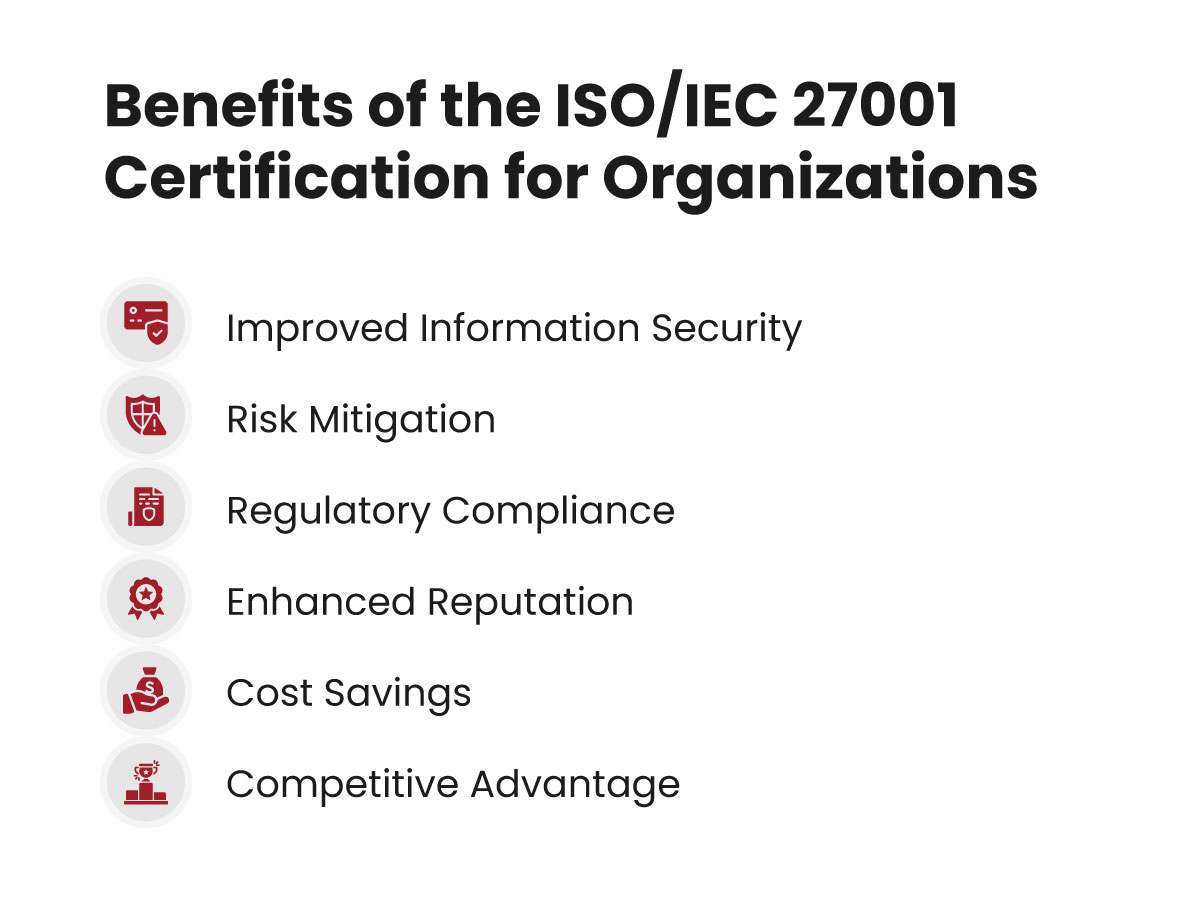 How Can PECB Help?
PECB plays a pivotal role in unlocking the benefits of ISO/IEC 27001 certification through its comprehensive training courses. PECB offers a wide array of ISO/IEC 27001 training courses, including:
These training courses are designed to equip professionals with the needed knowledge and skills to understand, implement, and manage information security systems in compliance with the ISO/IEC 27001 standard.
By providing expert instructors and flexible learning options, PECB helps individuals achieve ISO/IEC 27001 certification, enhancing careers and enhancing information security practices for a more secure digital environment.
About the Author
Vlerë Hyseni is the Digital Content Officer at PECB. She is in charge of doing research, creating, and developing digital content for a variety of industries. If you have any questions, please do not hesitate to contact her at: content@pecb.com.
---