4 Key Stages of Asset Management Life Cycle

In the complex world of business, managing assets is crucial when aiming for long-term success. The increasing complexity of handling a range of assets, from physical to intangible intellectual property, highlights the need for a systematic strategy that covers the duration of an asset's life cycle.
By monitoring, optimizing, and maintaining assets throughout their lifespan, organizations can make decisions, allocate resources wisely, and minimize disruptions. This strategic approach transforms assets into contributors that enhance stability, decision-making, and growth potential.
Understanding the Asset Management Life Cycle
'Asset' is a term used to describe resources, which an individual or organization owns or controls with the expectation that they will provide a benefit in the future. It can include items such as equipment, machinery, and properties, as well as intangible assets, such as intellectual property, data, and brand reputation.
The asset management life cycle involves an organized and structured approach for overseeing assets starting from their acquisition and continuing until their eventual disposal. This cyclic process includes different stages that focus on maximizing assets' value, performance, and overall impact on an organization.
The four main key stages of the asset lifecycle are:
Planning
Acquisition
Operation and maintenance
Disposal and replacement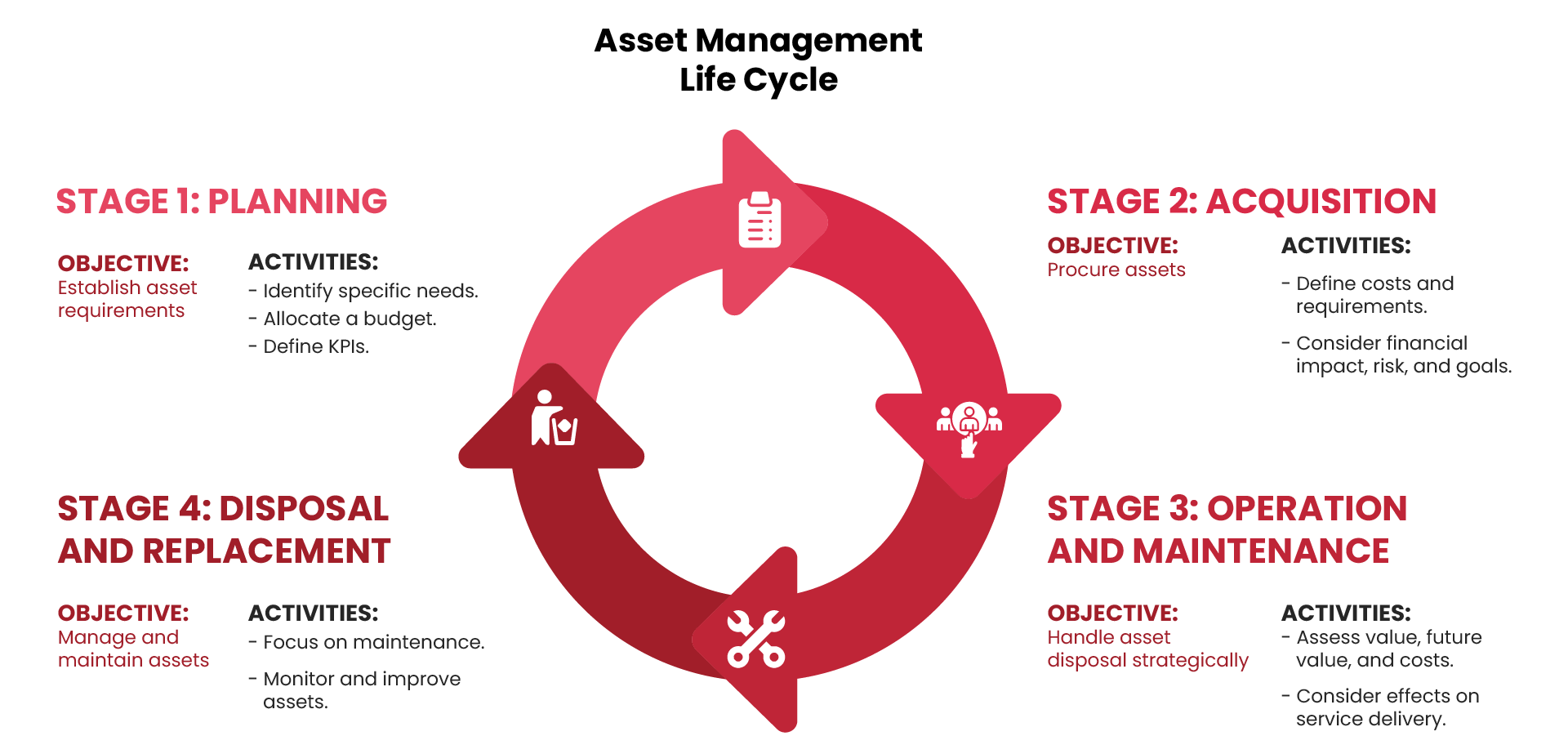 Planning Stage
Planning as the first stage of the asset life cycle, establishes and verifies asset requirements. This establishment is based on the evaluation of the existing assets, their quantities, specifications, and potential to meet service delivery needs. In order to include and analyze the need for an asset, it is necessary to identify management strategies. Throughout all stages of planning, it is crucial to make sure that the ongoing development adds value to the organization.
To make this stage more effective, organizations can implement some of the following activities:
Demand analysis – Conduct a thorough analysis to identify the specific needs that the asset will fulfill. This should involve input from relevant stakeholders to ensure alignment with business objectives.
Cost-benefit analysis – Evaluate the potential benefits of acquiring the asset against the costs, including acquisition, operation, maintenance, and disposal costs.
Risk management – Identify and assess potential risks associated with the asset, such as technological obsolescence, regulatory changes, or market shifts. Develop strategies to mitigate these risks.
Budget planning – Allocate a budget that covers not only the acquisition cost but also ongoing operational and maintenance expenses over the asset's lifespan.
Performance metrics – Define key performance indicators (KPIs) to measure the asset's performance and impact on the organization's goals. This helps track the asset's effectiveness throughout its lifecycle.
How does effective planning help asset management? Effective planning contributes to successful asset management through various key aspects:
Assessing the practical sufficiency of existing assets
Ensuring resources are available when necessary
Recognizing excess or under-performing assets
Estimating options for asset provision and funding asset acquisition
Ensuring assets are maintained and liable
Acquisition Stage
A fundamental part of the asset management life cycle is the acquisition process. When purchasing a new asset for the organization, a number of activities are required, but the decision to purchase the asset must only be made after defining the costs and requirements. The integration into existing operations requires careful consideration of multiple factors, such as financial impact, risk management, alignment with goals, and integration.
Operation and Maintenance Stage
Operation and maintenance refer to the management and application of an asset, including maintenance, in order to fulfill its purpose. The plan of asset management should have a high focus on asset maintenance issues. Long-lived assets, in the majority of the public sector, especially roads and buildings require particular maintenance during their life cycle.
To overcome any adjustment in operational requirements, the asset should be maintained, monitored, and improved over time.
Disposal and Replacement Stage
Any organization, in either the public or private sector, will need to deal with asset handling. Recognizing assets' value, future value, and costs are essential, therefore, developing a strategic asset management plan is highly preferred and required.
When an asset reaches its end, it can be treated as a surplus or otherwise considered an underperforming asset. Disposal should be treated from the perspective of the effects of the decision on service delivery and any departmental responsibilities. A special focus should be placed on cultural heritage with detailed requirements that organizations should consider.
Benefits of an Effective Asset Management Life Cycle
Effective asset management life cycle implementation offers a wide array of benefits for organizations, such as:
Optimized resource allocation
Enhanced decision-making
Minimized downtime
Cost savings
Improved performance
Mitigated risks
Sustainable practices
Longer asset lifespan
Strategic alignment
Business continuity
Data-driven insights
Regulatory compliance
Enhanced ROI
Improved accountability
Competitive advantage
ISO 55001 Asset Management System
ISO 55001 Asset Management is an international standard that specifies the requirements for establishing, implementing, maintaining, and improving a management system for assets. It guides organizations in aligning asset strategies with their objectives while identifying and managing risks, optimizing asset performance, making data-driven decisions, and fostering continuous improvement. It also helps them with stakeholder engagement, legal compliance, resource allocation optimization, and reputation enhancement.
PECB ISO 55001 Asset Management System Training Courses
PECB's ISO 55001 Asset Management System Training Courses provide comprehensive learning experiences to equip professionals with the expertise to implement effective asset management practices according to the internationally recognized ISO 55001. Led by experienced trainers, these courses cover all aspects of asset management, enabling participants to optimize resource allocation, minimize risks, and drive operational excellence.
Explore the following PECB ISO 55001 Asset Management System training courses:
About the Author
Vlerë Hyseni is the Digital Content Officer at PECB. She is in charge of doing research, creating, and developing digital content for a variety of industries. If you have any questions, please do not hesitate to contact her at: content@pecb.com.
---