ISO 20121:2012 Event Sustainability Management Systems

Introduction
Events have both positive and negative impacts, whether social, economic or environmental. For this reason, practitioners within the events industry are becoming more aware of the need for more sustainable practices.
ISO 20121 has been drafted to help organizations and individuals improve the sustainability of their event- related activities.
The standard is relevant to all the members of the event industry supply chain including organizers, event managers, stand builders, caterers and logistics suppliers.
Global Sustainability Mega-forces
Climate change: Predictions of annual output losses from climate change range between 1 percent per year;
Energy & Fuel: Fossil fuel markets are likely to be- come volatile;
Market resource scarcity: Global demand for material resources will increase dramatically;
Water scarcity: By 2030, the global demand for fresh water will exceed supply by 40%;
Population growth: Global population is predicted to be 8.4 billion by 2032;
Wealth: Global middle class grow 172% by 2030;
Urbanization: All population growth over the next 30 years will be in cities;
Food security: Global food prices are predicted to rise 70-90% by 2030
Ecosystem decline: Natural resources scarcer, more expensive and less diverse;
Deforestation: Forest areas to decline by 13% from 2005 to 2030.
This International Standard specifies the requirements for an event sustainability management system to improve the sustainability of events. It is applicable to all types and sizes of organizations involved in the design and delivery of events, and accommodate diverse geographical, cultural and social conditions. At the same time, it requires organizations to recognize their relationship with and impact on society and society's expectations of events.
ISO 20121 provides the framework for identifying the potentially negative social, economic and environmental impacts of events by removing or reducing them, and capitalizing on more positive impacts.
ISO 20121 and its predecessor BS 8901 are the first standards that intend to drive sustainability performance in a holistic and strategic manner, including all three pillars of sustainability: social, economic and environmental.
An overview of ISO 20121:2012
This International Standard specifies the requirements for an event sustainability management system, for any type of event or event-related activity, and provides guidance on conforming to those requirements.
It has been designed to address the management of improved sustainability throughout the entire event management cycle.
What is Sustainable Development?
Sustainable development is the development that meets the needs of the present without compromising the ability of future generations to meet their own needs.
This standard is intended to be applied flexibly and will allow organizations that have not formally addressed sustainable development to start to implement an event sustainability management system.
Organizations with existing management systems will be able to integrate the requirements of this International Standard into their existing systems. Every organization will benefit from the process of continual improvement over time.
Event sustainability management is improved with ISO 20121 by incorporating:
An operational ESMS applicable to any organization wishing to increase the effectiveness and efficiency of its processes related to event sustainability management;

Efficiency across all aspects of event planning;

Greater sustainable supply chain; and

Management commitment and defined resources, roles, responsibilities and authority.
ISO 20121 applies to all types and sizes of organizations that wish to:
Establish, implement, maintain and improve an ESMS;

Ensure that it is in conformity with its stated sustainable development policy;

Demonstrate voluntary conformity with this International Standard by:
First party (self- determination and self-declaration),

Second party (confirmation of conformance by parties having an interest in the organization, such as clients, or by other persons on their behalf), or

An independent third party (e.g. a certification body).
The ISO 20121 standard is based on the Plan-Do-Check-Act cycle.
The

Planning

deals with the beginning stage of an organization wishing to comply with the standard.
The

Do

part of the cycle is the implementation and operation of the ISO 20121 standard within an organization.
The

Check

cycle deals with checking and correcting errors.
The

Act

part deals with reviewing of the entire process by the organization's top management.
How to ensure event sustainability?
Organizations shall consider the following guidelines included in the main clauses of this International Standard to help ensure event sustainability.
Key clauses of ISO 20121:2012
ISO 20121 is organized into the following main clauses:
Clause 4: Context of the organization Clause 5: Leadership
Clause 9: Performance evaluation Clause 10: Improvement
Each of these key activities is overviewed below.
|| Clause 4: Context of the organization
External and internal issues that affect the organization's ability to achieve intended outcome(s) of its event sustainability management system shall be determined. To prevent these issues, the following requirements shall be met:
The organization and its context shall be fully understood by all employees,

The needs and expectations of interested parties shall be understood and met,

The scope of the event sustainability management system shall be determined,

The event sustainability management system shall be established, implemented, maintained and continually improved, and

e organization's governing principles of sustainable development shall be properly defined.
|| Clause 5: Leadership
•

Top management is accountable for demonstrating leadership and commitment, establishing a Sustainable Development policy and communicating the assigned roles and responsibilities within the organization.
|| Clause 6: Planning
The most essential part of ISO 20121 and stage of the ESMS is the planning phase, since it defines the actions to address risks and opportunities and states the ESMS objectives for achieving.
|| Clause 7: Support
A range of management functions are required in order to effectively implement and support a successful Event Sustainability Management System, including:
Resources: Relevant resources and an allocation framework shall be established, implemented and maintained to ensure continual improvement of the ESMS and its objectives and targets.

Competence: Determining and acquiring the necessary competence of persons working in the organization based on their education, training and experience, and retaining appropriate documented information as evidence of competence, are important steps for the continual improvement of the ESMS.

Awareness: Employees of the organization, who have to do with the ESMS, shall be aware of the ESMS policy, their contribution to the effectiveness of the ESMS management system and the implications of non-conformities with the requirements of ISO 20121.

Communication: Internal and external communication including work group meetings, newsletters, and discussions of advantages and disadvantages of options for controlling specific hazards or preventing unsafe behavior shall be determined.

Documented information: The organization shall create, update and control documented information required by the ISO 20121 International Standard and those determined by the organization, as being necessary for the effectiveness of the event sustainability management system.
|| Clause 8: Operation
The planning and control of the organization's operations and processes shall be determined and implemented to address the ESMS performance, objectives and targets. The organization shall also establish the relevance of each of these objectives, targets and plans to individual suppliers to demonstrate their capability to support the objectives.
|| Clause 9: Performance evaluation
After the implementation of the ESMS, ISO 20121 requires permanent monitoring of the system as well as periodic reviews to improve its operations by:
Performing against governing principles of sustainable development,

Monitoring, measurement, analysis and evaluation,

Conducting an internal audit and management reviews.
|| Clause 10: Improvement
An organization is required to practice procedures for identifying nonconformities and taking corrective and preventive actions. These nonconformities shall then be reacted upon and dealt with by taking relevant actions to eliminate their causes, thus assuring continual improvement of the ESMS.
Link of ISO 20121 with other standards
ISO 20121 can be easily linked with other ISO standards, such as ISO 14001, ISO 26000 and ISO 50001. Within the ISO 20121 standard, there is a balance between environmental, social and economic aspects. ISO 26000 is focused on the social aspect, ISO 14001 on the environmental impacts, whereas ISO 50001 on energy efficiency.
These standards can be either individually implemented or with each other. These standards can also be integrated with other management system standards, such as ISO 9001.
In addition, other International Standards related to event sustainability are:
APEX/ASTM

– Environmentally Sustainable Meeting Standards intends to create a more sustainable meeting or event by providing measurable, prescriptive performance based standards.The main difference between ISO 20121 and APEX/ASTM is that the latter provides numeric metrics for events; while according to ISO 20121, each event will be measured according to their specific issues.
GRI Event Sector Supplement

- GRI aims to alter sustainability reporting into a standard practice. It offers a reporting framework for companies wishing to compile a sustainability report. GRI event Organizers Supplement establishes guidelines for reporting qualitative and quantitative information related to an organization's event sustainability.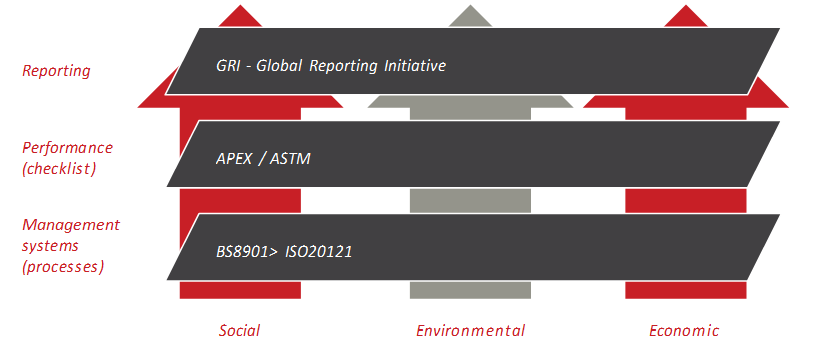 What are the business benefits of event sustainability management?
As with all the major undertakings within an organization, it is essential to gain the backing and sponsorship of the executive management. By far, the best way to achieve this is to illustrate the positive gains of having an effective event sustainability management process in place, rather than highlight the negative aspects of the contrary.
Today an effective event sustainability management system is not about being forced into taking action to address external pressures, but its importance relies on recognizing the positive value of energy management when good practice is embedded throughout your organization.

The adoption of an effective event sustainability management process within an organization will have benefits in a number of areas, examples of which include:
Achieves costs savings with regard to material consumption , waste and energy;

Greater integrated management and consolidated thinking resulting in improved efficiencies and stronger teamwork;

Simpler , clearer and more effective systems and processes;

Better employee productivity;

Strengthens the position of the organization within the community;

Benchmarking, measuring, documenting, and reporting energy intensity improvements and their impact on greenhouse gas emissions;

Increases employee motivation, attracts best talent and improves retentions;

Boosts reputation and strengthen relationships with key stakeholders;

Increases visitor's satisfaction;

Increases the confidence of clients, business partners and other stakeholders when working with the organization that possesses ISO 20121;

Provides differentiation as a competitive advantage for the organization;

Greater satisfaction of customer and/or other stakeholders requirements;

Consolidates confidence of customers, suppliers and partners of the organization; and

Complies with national, regional and international laws and regulations.
Why is PECB a worthy choice?
Implementation of ESMS with IMS2 methodology
Considering the well documented benefits of implementing an Event Sustainability Management System based on ISO 20121, makes the proposal easier to decide on.
Most companies now realize that it is not sufficient to implement a generic, "one size fits all" event sustainability management plan. For an effective response, with respect to maintaining the event sustainability management system, such a plan must be customized to fit to a company. A more difficult task is the compilation of an implementation plan that balances the requirements of the standard, the business needs and the certification deadline.
There is no single blueprint for implementing ISO 20121 that will work for every company, but there are some common steps that will allow you to balance the frequent conflicting requirements and prepare you for a successful certification audit.
PECB has developed a methodology (please see example below) for implementing a management system; the "Integrated Implementation Methodology for Management Systems and Standards (IMS2)", and it is based on applicable best practices. This methodology is based on the guidelines of ISO standards and also meets the requirements of ISO 20121.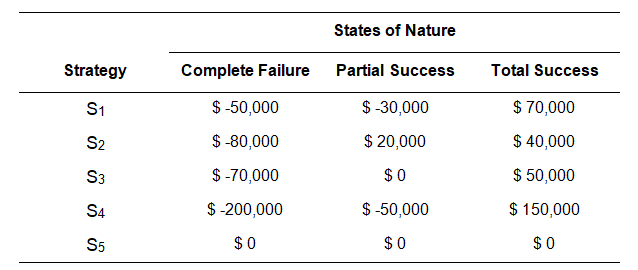 IMS2 is based on the PDCA cycle which is divided into four phases: Plan, Do, Check and Act. Each phase has between 2 and 8 steps for a total of 21 steps. In turn, these steps are divided into 101 activities and tasks. This 'Practical Guide' considers the key phases of the implementation project from the starting point to the finishing point and suggests the appropriate 'best practice' for each one, while directing you to further helpful resources as you embark on your ISO 20121 journey.
The sequence of steps can be changed (inversion, merge). For example, the implementation of the management procedure or documented information can be done before the understanding of the organization. Many processes are iterative because of the need for progressive development throughout the implementation project; for example, communication and training.
By following a structured and effective methodology, an organization can be sure it covers all minimum requirements for the implementation of a management system. Whatever methodology used, the organization must adapt it to its particular context (requirements, size of the organization, scope, objectives, etc...) and not apply it like a cookbook.
Steps for obtaining a PECB certification
To ensure that organizations or individuals achieve planned and desired ESMS results, the following steps will serve as guidance on how to become PECB Certified on ISO 20121 – Event Sustainability Management System.

For more information on Event Sustainability Management System training courses please click here.
Principal Authors:
---