Teaching Experience
(Years)
15+
Professional Experience
(Years)
25+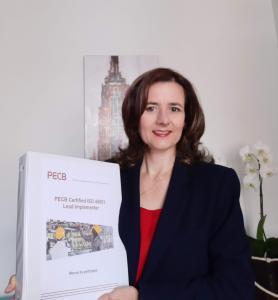 Nohora Isabel Valbuena Amarís
Current Employer: N/A | City: Bogotá D.C.
Province / State / Region: Bogota D.C. | Country: Colombia
---
Profile Summary
Magíster en Ergonomía y Cambios Tecnológicos, Especialista en Ergonomía y Administración de Salud Ocupacional, con más de veinticinco años de experiencia como Consultor líder en Gestión de la Seguridad y Salud en el Trabajo, en Administradoras de Riesgos Laborales y empresas en Colombia. Paralelamente durante dieciséis años fue docente en diversas universidades e instituciones tecnológicas. En su experiencia profesional ha estado encargada de la coordinación científica, el apoyo ténico-investigativo y administrativo en la planeación, implementación, monitoreo, evaluación del desempeño y mejora continua de planes, estrategias, programas y productos para la prevención de las enfermedades laborales y los accidentes de trabajo. De igual manera, ha participado en el diseño e implementación de estrategias de formación, certificación y actualización de competencias del recurso encargado de ofrecer asesoría y asistencia técnica en Seguridad y Salud en el Trabajo. Es autora y coautora de publicaciones técnicas en Seguridad y Salud en el Trabajo, con énfasis en la gestión de la salud músculo esquelética, la promoción de salud y la prevención de los riesgos en el teletrabajo, la gestión de los riesgos asociados a la fatiga, entre otros. Cuenta con amplia experiencia en la evaluación integral de sistemas de trabajo.
---
Trainer specialities and experience
Here is a detailed description of the courses that the trainer is specialized in and their related experience.
Scroll to Top