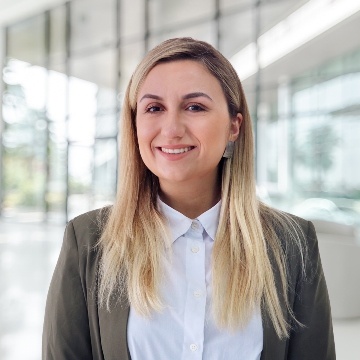 Aurora Murati
Senior Business Development Supervisor – PECB Europe, Africa, and Middle East
As the Europe, Africa, and Middle East Senior Business Development Supervisor, Ms. Murati is in charge of leading the business actions and efforts across 100+ countries in her attributed territories. She ensures that Partners receive professional services and are provided with impeccable support.
Ms. Murati has initially been part of the PECB Marketing Department as a Portfolio Marketing Manager for the Transport, Telecom, and Energy portfolio. Drawing on her professional background while ensuring progress in the design and identification components through which business development could flourish, Ms. Murati continued her professional growth through the Business Development Department as a Business Development Manager for Africa. Her ability to create opportunities to deliver comprehensive services that built trust and confidence in our Partners, led to the promotion of Ms. Murati to Business Development Supervisor for Africa and Middle East at PECB and the success later followed to Senior Business Development Supervisor for Europe, Africa, and Middle East.
Ms. Murati's international work experience in Germany and Kosovo in the education sector, as well as her education background in Business and Management has equipped her with experience in Business Development, Management, Sales, and Marketing. She is also certified in Information Security and Quality Management by PECB, and has participated in Marketing and Business Communication and Sales and Customer Experience trainings.
---