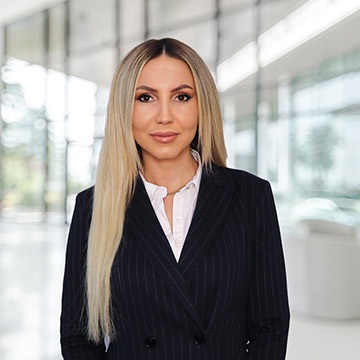 Dafina Arifi
Software Business Analyst Supervisor
Dafina is responsible for managing and supervising the Software Business Analysts department, while carrying out comprehensive research in order to understand the business needs of all departments. For her it is important to develop and maintain a continuous improvement culture, focusing on identifying and implementing efficient ways of working for both current and new business processes within the current Digital Era.
She is experienced in Project Management, Digital consultancy, Robotics Process Automation (RPA) consultancy, Process Automation consultancy, Tax Compliance, Tax Advisory, Bookkeeping, Accounting, Internal Controls management. She has solid knowledge of IFRS, U.S. GAAP, GAAS and several project management tools.
She holds a Master of Science degree in accounting and a Bachelor's degree in management and economics, both from Rochester Institute of Technology (RIT). She is currently aiming to get qualified as a Certified Management Accountant (CMA), as she is also a recipient of the Institute of Management Accountants (IMA) scholarship.
---