ISO 37002 Whistleblowing Management System - Training Course
Whistleblowing is the act of reporting suspected wrongdoing or risk of wrongdoing. A large number of wrongdoings are reported to organizations or other authority from employees within the organization. According to ACFE's (Association of Certified Fraud Examiners) 2020 Report to the Nations, 43% of occupational frauds were detected by tips, half of those coming from employees.
This has encouraged many organizations to consider improving their whistleblowing policies, creating safe channels for whistleblowers, as well as protecting and supporting them. ISO 37002's guidelines for a WMS aim to provide just that.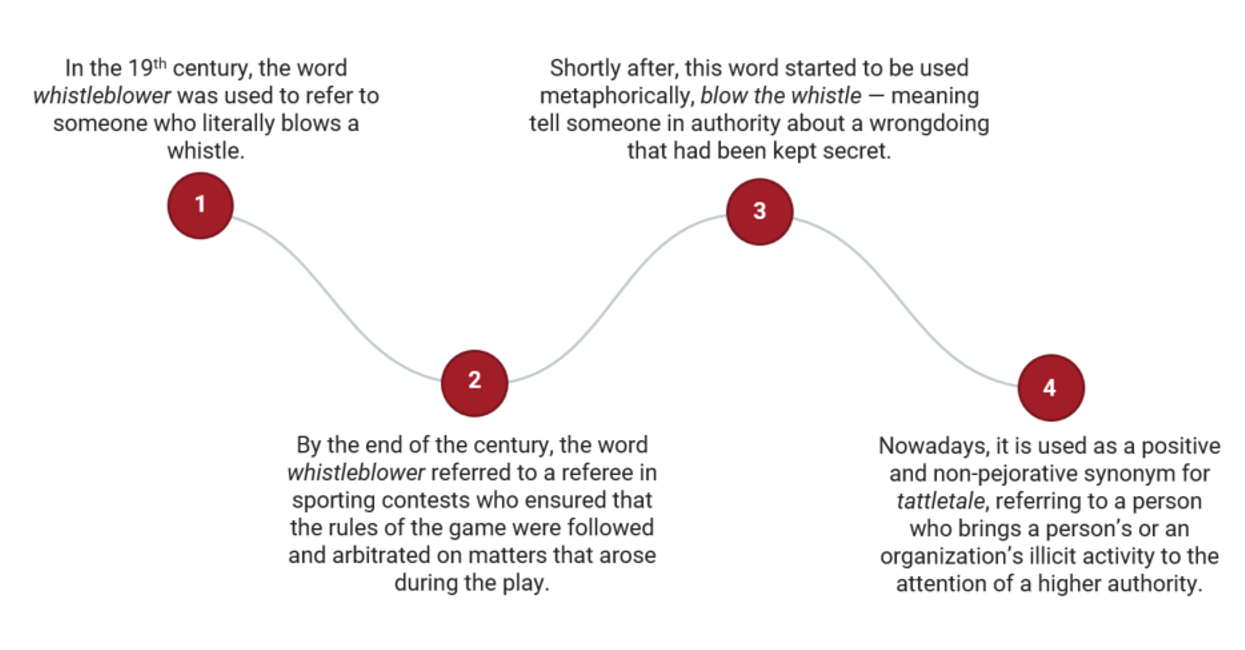 Figure 1. The origin of whistleblowing as a concept, according to Merriam-Webster
An introduction to ISO 37002
Published in July 2021, ISO 37002 is an international standard that provides guidelines for establishing, implementing, maintaining, and improving a whistleblowing management system (WMS) based on the principles of trust, impartiality, and protection. It provides guidelines on a four-step process: receiving reports of wrongdoing, assessing them, addressing them, and concluding whistleblowing cases. Organizations using ISO 37002 to implement a WMS can achieve the following:
Encouragement and facilitation of reporting a wrongdoing
Support and protection for whistleblowers and other interested parties involved
Proper means of dealing with reports
Improved organizational culture and governance
Reduced risks of wrongdoing
ISO 37002 follows the High-Level Structure (HLS) and shares the common terminology with other management system standards developed by ISO. It is applicable to all organizations, regardless of their type, size, and industry. It can be used as a stand-alone guidance or as part of a more comprehensive set of management system standards. This standard is a Type B management system standard, meaning that it is not intended for certification.
Benefits of ISO 37002
ISO 37002 guidelines provide guidance for organizations wishing to implement a whistleblowing management system or improve their existing whistleblowing policies and procedures. Implementing a WMS based on ISO 37002 demonstrates an organization's commitment to effectively prevent, detect, and respond to wrongdoings. Additionally, it helps them encourage employees to report any wrongdoing when they see or detect it, knowing that they will be fully protected when doing so. Some of the benefits of implementing a WMS based on ISO 37002 are listed below, in Figure 2.

Figure 2. Benefits of implementing ISO 37002 for organizations
PECB ISO 37002 training courses
Our training courses provide definitions, examples, explanations, and additional information related to ISO 37002. They will help you understand the standard and develop the competence necessary for implementing a WMS in your organization, or simply learn more about whistleblowing. Furthermore, exercises and quizzes included in the training courses engage you with the material and help you stay focused.
Our training courses will help you:
Understand the basic concepts of ISO 37002
Understand the benefits of a whistleblowing management system
Gain competence in planning, implementing, maintaining, evaluating, and improving a whistleblowing management system
Learn about compliance with organizational and legal requirements for whistleblowers, and management of whistleblowing processes
Benefits for individuals attending PECB ISO 37002 training courses
Our training courses help you develop the competencies to design and implement whistleblowing controls and mechanisms, and integrate these in an organization. In addition, you will also learn about supporting whistleblowing policies as an employee and learn about legal rights and additional information related to whistleblowing.
Being trained on ISO 37002:
Demonstrates your knowledge of an internationally recognized standard for whistleblowing management systems
Demonstrates that you have the competence needed to plan, implement, maintain, and improve a WMS
Provides you with opportunities to further improve your reputation and career as a manager, consultant, or employee
Helps you demonstrate awareness of the importance of creating a culture of integrity, accountability, and transparency in a working environment
Why choose PECB?
As a global provider of training, examination, and certification services, PECB aims to help you demonstrate commitment and competence by providing you valuable education, evaluation, and certification against internationally recognized standards.
Getting started with PECB ISO 37002 training courses
We at PECB are excited to welcome you to our global network. We will assist you throughout the entire process in order to offer you a worthwhile experience.
Contact us to begin with the first step
PECB Certified ISO 37002 training courses available
Enhance your knowledge and advance your career by participating in our ISO 37002 training courses.