Trainer-Profil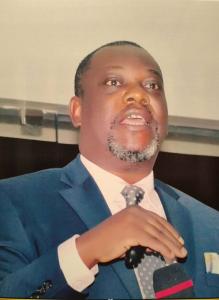 Olawale Bakare
Kontakt-Details
Aktueller Arbeitgeber:
Protec Consulting Limited
Provinz / Bundesland / Region:
Lagos
Unterrichtserfahrung (Jahre)
10
+
Berufserfahrung (Jahre)
15
+
Profil-Zusammenfassung
Wale Bakare is a respected international Health & Safety Trainer, Fire Risk Assessor, and Health & Safety Management Systems Specialist. A Registered Consultant and Accident Investigator with the Lagos State Safety Commission, he is a Distinguished Fellow of the Emergency, Crisis and Safety Management Institute of Nigeria as well as being a Senior Member of the Institute of Safety Professionals of Nigeria. In his almost 20-year career as a Safety Professional, he has worked and delivered training across the African continent and Europe including Nigeria, United Kingdom, Ghana, Cameroun, Kenya, South Africa, Uganda, Tanzania and Zambia. He has also delivered IOSH and NEBOSH training in the United Kingdom, Dubai, and Turkey to delegates from as diverse as Kazakhstan, United Arab Emirates, Libya, Netherlands, and Norway. He is currently the Team Lead on the GIZ/UKAID E4 SOGA Project in Uganda which is helping to build the capacity for 30 Small and Medium Enterprise through the development and implementation of ISO 45001 compliant HSMS. This involves training, HSMS surveys and gap analyses, development and designing of processes, procedures and Method Statements. He was a Member of The Technical Committee on the Review of The Water Sector & Sanitation Policy in Lagos State, Nigeria. He was on the team that developed the Draft Water Policy for Rivers State on behalf of the Rivers State Ministry of water Resources. He was on the World Bank funded ENPLAN/ATKINS team that carried out the Technical Assistance for the Update of the Environmental and Social Management Plan (ESMP) and the Consultancy Service on Early Flood Warning System and Dam Safety at Kainji and Jebba Dams Rehabilitation Projects under the Niger Basin Water Resources development and sustainable ecosystems management program: rehabilitation of Kainji & Jebba Hydroelectric Power Plants, all in Nigeria. Wale also worked on the EU Commission funded project on Technical Assistance for Programme Implementation at State Level – Water Supply and Sanitation Sector Reform Programme (WSSSRP) which covered Five (5) states of Nigeria. His terms of reference included the evaluation of the state of Health & Safety practices, identification of areas for improvement, and the drafting of HSE Policies for the various agencies under the EU-WSSSRP project. A recipient of several awards, he was the first to score an unprecedented score of 100% during a COGENT Audit during one of his training sessions in the UK. He has also been recognised by the Lagos State Safety Commission for his contributions to the development of Health & Safety in Lagos State. In 2019, he was the sole African representative on the Panel to discuss the global impact of Asbestos which held in Washington DC in April, 2019.
Trainer Fachgebiete und Erfahrung
Hier finden Sie eine detaillierte Beschreibung der Kurse, auf die sich der Trainer spezialisiert hat, sowie seine/ihre Berufserfahrung für die jeweiligen Kurse.