Why ISO 22000 is a Global Demand?

Global food production has been confronted with some troubling results in the last decades. Foodborne illness; food contaminants, pesticide exposure, environmental effects, wrong handling and storing of the food are just some of the biggest food safety concerns. The safety of food doesn't only have a major impact on public health, but also on international trade. Safe food handling begins at production and goes through each point of the chain up to the consumer. Food chains are longer and more complex due to globalization of production and procurement, which directly affects the safety of food.
ISO 22000
The Center for Disease Control (CDC) estimates that each year 1 in 6 Americans (48 million people) get sick from foodborne illnesses, 128,000 are hospitalized, and 3,000 die. This is a terrifying number taking into consideration that we live in an era where food safety should not present any issues. This is why International Organization for Standardization has designed ISO 22000 intended to provide security by ensuring that there are no weak links in the food supply chain. Through this standard, a unified language of safety is used and the system's effectiveness is improved, while the risk of critical errors is reduced. ISO 22000 was published in 2005 and it has received a worldwide recognition, by being implemented in top food companies. Unlike the implementation of HACCP management system which is obligatory, implementation of food safety management system according to ISO 22000:2005 standard is voluntary. However, some of the ISO 22000 requirements are regulated by the law, such as the traceability system that is required by 178/2002 EC regulation.
Food safety is not only quality assurance. It involves business functions including engineering, purchasing, sales, and human resources. Top management should define and communicate the food safety policy. It should be ensured that the policy is in compliance with the organization's role in the food chain. Conformity with both statutory and regulatory requirements is one of the priorities when implementing the standard.
ISO 22000 Certification
With all this complexity, every company wants to ensure that there is never a dip in quality output. The simplest way to create a proper framework of assurance is to implement ISO 22000 Certification.
Adoption of ISO 22000 is growing rapidly worldwide. This standard continues to deliver reliable performance with a 14 % growth rate. In 2013, 26,847 certificates were issued worldwide, whereas in 2014, the number has been increased to 30,500. Asia and Europe were on the top of the list for being awarded with ISO 22000 certification. China is a good example of a country that has a clear understanding of why food safety is mandatory. 5,575 certifications were awarded to food sector business in China, 2010- more than doubling the 2, 233 recorded in 2009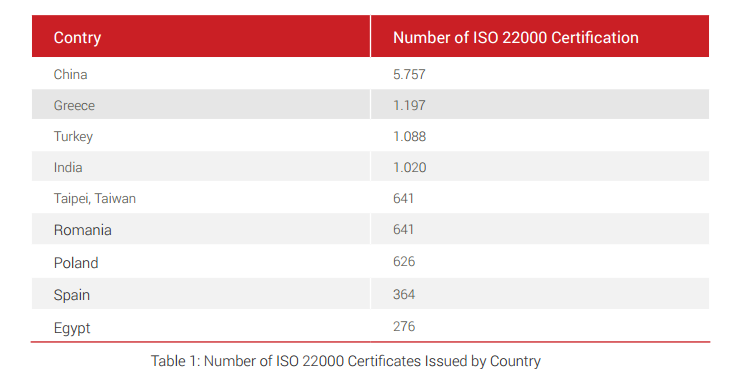 Benefits of adopting ISO 22000
Everyone wants to be sure that the food they put on their table is safe and healthy. This is why ISO 22000 certification is a must if you want to make it big in a food industry. It works for all types of organizations, as it specifies requirements for a food safety management system and assists organization in control of food safety hazards. ISO 22000 can be implemented on its own, but it is also fully compatible with ISO 9001, which allows the company to benchmark its practices with a control of quality management. The companies with ISO 9001 certification can simply extend their certification to include ISO 22000. This is a perfect example of using both standards and increasing your food safety and quality by simplified and effective documentation. ISO 22000 incorporates HACCP principles, all the programs that define conditions of a hygienic environment and of course, other components that create an effective management system. Customers seek companies with ISO 22000 certification, because they want insurance that the products, ingredients are on the highest level of safety. Organizations that aim to gain a greater access in the global market and that know the importance of satisfied customers will offer a certified food management system.
60.8 % of consumers are worried about food safety and 37.6 % say they will never use a product that was once found inconsistent with food safety standards. Food poisoning is one of the issues why consumers will not trust you company again. Food poisoning is an illness that most of the time is mild and goes away after a few days. Some types of food poisoning can be more serious and even fatal for people. Contamination of food and water can occur anywhere, mostly due to harmful germs caused by wrong handling, storing, processing, etc. Food poisoning is preventable when following hygiene principles recommended by WHO, such as: separating raw and cooked foods, storing food at proper temperature using safe water, etc. Also, having an ISO 22000 certification is an evidence of having a strong sense of safety regarding food.
ISO 22000 Certification benefits:
Identifying, managing, mitigating and improving your food safety processes and communication throughout the supply chain
Giving suppliers and stakeholders confidence in your hazard controls
Reducing and even eliminating reactive food safety practices, including product recalls and litigation
Allowinh you to measure your progress towards continual improvement of your company
Creating a successful brand image, marketing and ranking your product easily among the best ones
After a decade of its publication, ISO 22000 is undergoing a complete revision, in order to be up to date with today's food safety requirements. The major changes include the high level structure, the risk approach, and the PDCA cycle and operation process. During the revision, it will cover all comments received regarding the food safety and try to reflect them in the new version. It is expected to be published in October-November, 2018.
PECB is continuously active in assisting organizations worldwide and society as a whole to achieve best practices using standards to provide structure and focus on training and development programs.
PECB offers Training and Certification services for ISO 22000:2005-Food Safety Management System, which ensures that you meet all your business needs. With PECB Certification, you will gain a competitive advantage worldwide and increase your company's incomes. Future growth of productivity, building a reputation, developing food safety skills set and being among the first to know what is happening in Food Safety are just some of many benefits you obtain with PECB ISO 2200 - Food Safety Management System Certification.
Suzana Ajeti is a Portfolio Marketing Manager for Health, Safety & Environment at PECB. She is in charge of conducting market research while developing and providing information related to HSE standards. If you have any questions, please do not hesitate to contact her: marketing.hse@pecb.com.
---